China outcry over picture of teacher hurting pupil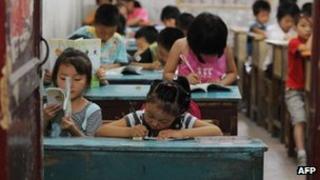 Chinese police have detained two teachers in Zhejiang province after a photo was circulated online showing one of them lifting a pupil by his ears.
The picture of the young boy screaming in pain caused an outcry after it was posted to a social networking site, state news agency Xinhua reported.
The teacher in question apparently told police she did it "for fun".
China has recently been seen a number of scandals involving violence against pupils in schools.
Another video also circulated on social networks this week showing a teacher repeatedly slapping a five year-old girl round the face.
Local media reports said the female teacher, from the Montessori kindergarten in north China's Shaanxi province, had also been detained by the authorities.
The child's father had apparently called the police after his daughter came home with bruises and swelling on her face. The abuse was captured on the classroom's security camera.
Education officials have said they will launch an investigation into the latest incident involving a child being held up by his ears at the Blue Peacock Kindergarten in Wenling, Zheijang province.
The kindergarten has been told to change its practices, Xinhua reported.
According to the news agency, the increased attention on violent incidents against schoolchildren prompted China's ministry of education to propose a national ban against corporal punishment in June.