China's Wen Jiabao family rejects New York Times claims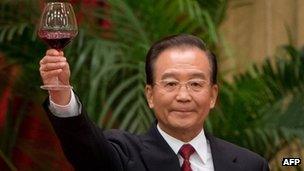 Lawyers for Chinese Premier Wen Jiabao's family have rejected New York Times claims that they have amassed "hidden riches" of billions of dollars.
The US newspaper reported on Friday that Mr Wen's family controlled assets worth at least $2.7bn (£1.7bn).
It responded to the statement on Sunday, saying it stood by the story.
China has condemned the report as a smear, and NYT sites are blocked in the country, as are references to the report on micro-blogging sites.
Bai Tao of the Junhe Law Office and Wang Weidong of the Grandall Law Firm released the statement late on Saturday evening responding to the "untrue" New York Times report.
"The so-called 'hidden riches' of Wen Jiabao's family members in The New York Times' report does not exist," the statement said.
The lawyers also denied that Mr Wen had any role in his family's business activities, nor allowed them to influence policy.
It specifically referred to Mr Wen's 90-year-old mother, who it said had no property nor any income apart from her salary and pension.
One of the central claims of the report was that Yang Zhiyun had a $120m investment in Ping An Insurance.
The statement ended with an apparent threat of legal action.
"We will continue to make clarifications regarding other untrue reports by the New York Times, and reserve the right to hold it legally responsible," it said.
But Times spokeswoman Eileen Murphy expressed confidence in the report.
"We are standing by our story, which we are incredibly proud of and which is an example of the quality investigative journalism The Times is known for," she wrote in an email quoted by the newspaper.
"In many cases, the names of the relatives have been hidden behind layers of partnerships and investment vehicles involving friends, work colleagues and business partners," it said.
The newspaper said both the Chinese government and Mr Wen's relatives declined to comment on the investigation, which was based on corporate records from 1992-2012.
China is sensitive about reports on its leaders, particularly when it comes to their wealth.
A growing wealth gap is causing public discontent, as are the frequent corruption scandals involving government officials.
When, in June 2012, a Bloomberg investigative report examined the finances of the relatives of president-in-waiting Xi Jinping, the company's website was blocked in China - even though the report said there was no indication of wrongdoing by him or his family.
Mr Wen has been the Chinese premier for almost 10 years. He is due to step down in a power transition that begins on 8 November.
He is seen as a popular figure with the common touch, and is portrayed in state media as a leader with great concern for the lives of ordinary people.