China morning round-up: Wen Jiabao and New York Times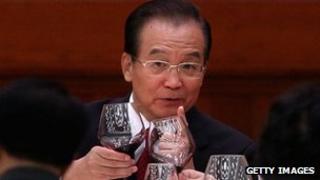 Newspapers in Hong Kong report comments from Beijing's Foreign Ministry rebuking a report by the New York Times which claimed Premier Wen Jiabao's family had amassed billions of dollars.
"There are always some voices in the world that do not want to see China develop and become stronger, and they will try any means to smear China and Chinese leaders and try to sow instability in China," South China Morning Post, Sing Tao Daily and others quoted Foreign Ministry spokesman Hong Lei as saying.
"Your scheme is doomed to failure," said Mr Hong.
Ming Pao Daily News says Wang Weidong, a Chinese lawyer who issued a statement on behalf of Mr Wen's family, told the paper he and another lawyer were still studying the New York Times report, but declined to say whether Mr Wen's family would take any legal action.
Newspapers in mainland China remain silent on both the New York Times report and the Foreign Ministry statement.
People's Daily reports on its front page Hong Lei's announcement that Mr Wen will attend the Asia-Europe Meeting in Laos on 4 November - just days before the Communist Party congress opens on 8 November in Beijing.
The paper's website published a Chinese-language commentary on Monday saying the New York Times was scandal-ridden in recent years and "worth no trust anymore", but the commentary has neither been reprinted in Tuesday's domestic nor overseas editions of People's Daily.
The commentary gave no mention to the report on Mr Wen's alleged wealth.
Meanwhile, a front-page commentary in the People's Daily Overseas Edition says the world's attention to the party congress shows people's "concern of their own fate".
Citing Australia's latest foreign policy plan aimed at improving Asian ties, the commentary says those who want to gain from Asia's growth have no choice but to engage with China.
Also on Tuesday, the Global Times and Shanghai Morning Post say the trilateral dialogue between the US, Japan and India held in New Delhi on Monday was Japan's attempt to contain China by strengthening alliances with the other two.
The Global Times' bilingual editorial says: "To suppress China's rise, great financial support will be needed. The US cannot afford this alone but neither can Japan or India."
Meanwhile, China Daily and Shanghai Daily report relations between the Chinese and US militaries are "marching to a better tune", as military bands from the two countries held a joint performance in Beijing on Monday.
The Global Times says the government of Ningbo denied rumours a student was killed during protests against the planned expansion of a chemical plant.
The government announced after another day of protest that at least 52 people had been detained since Friday, but most of them had already been released, said the report.
The Global Times and People's Daily also say Zhou Yongkang, the Communist Party's security chief, has called for a renewed crackdown on drug trafficking and terrorism during a recent visit to the China-Burma border region in Yunnan province.
The reports did not elaborate on the terrorism threat.
The Beijing Times reports experts from the Culture Ministry have rejected suggestions that China should apply for mahjong - the traditional Chinese board game - to be listed as an UN intangible cultural heritage.
The call came as the third World Mahjong Championship was concluded in Chongqing, said the report.