Profile: Hu Jintao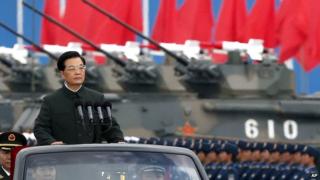 As China's once-in-a-decade leadership nears completion, the BBC's Celia Hatton profiles Hu Jintao, president for a decade.
Hu Jintao served as the leader of China's Communist Party and the country's head of state for a decade, beginning in 2002.
But in November 2012, Mr Hu began handing over power to his successor, Xi Jinping, beginning with his position atop the Communist Party. The role of commander in chief of the Chinese military then followed and in March 2013, at the National People's Congress in Beijing, a new president was to be appointed.
During Mr Hu's tenure, China became an industrial goliath, as its economy grew to become the 2nd largest in the world. China also launched a more assertive foreign policy while simultaneously assuring other nations of its intended peaceful rise.
However, even close followers of Chinese politics can offer few personal details about Hu Jintao.
He is regarded as a mild-mannered character who has kept his distance from the media during his time in office, rarely giving interviews or participating in unscripted press conferences.
'People first'
Hu Jintao has been described as a builder of consensus, bridging competing factions at the top of the party.
However, critics argue that Hu Jintao lacked the political strength and charisma needed to govern effectively, allowing factional politics within the Communist Party to get out of hand.
Mr Hu's predecessor, Jiang Zemin, retained his influence throughout Mr Hu's tenure.
Analysts agree that during his time in power, Mr Hu tried to give more consideration to the plight of ordinary people. He has repeatedly promoted the importance of attaining a "harmonious society", which would bridge the yawning gap between China's rich and poor.
Hu Jintao's speeches also call for "scientific development", a push for policies balancing the importance of social welfare in addition to economic growth.
Nonetheless, during Mr Hu's time at the helm of the Chinese government, China's wealthy coastal provinces continued to develop at a much faster rate than the country's interior regions. Mr Hu's dream of fostering a large Chinese middle class has yet to be realised.
When Mr Hu assumed the presidency, he worked to make the party elites seem more accessible, for example, by eliminating the elaborate ceremonies saluting China's top leaders when they travelled overseas.
On Chinese New Year, he was often pictured sharing simple meals with Chinese peasants instead of enjoying grandiose banquets in Beijing.
Mr Hu promised to tackle government corruption, but there are few signs that he was able to do so.
The last two years of Mr Hu's presidency were overshadowed by revelations that many top Communist Party members had enriched themselves at the hands of the state, including disgraced populist leader, Bo Xilai.
Though Mr Hu may have lost some internal political battles, he has always been a faithful follower of the party line.
Deng Xiaoping promoted Mr Hu to the party's ruling Politburo in 1992, thereby earmarking him to succeed Jiang Zemin as the "core" of the Communist Party's fourth generation of leaders.
The iron fist
Hu Jintao was born in 1942, and he is the first leader whose party career began after the Communist takeover in 1949.
Official biographies say he was born in eastern Anhui province, and joined the party at the height of the Cultural Revolution in 1964 when he was studying hydroelectric engineering at Beijing's prestigious Tsinghua University.
One entry - excised after he took over as party chief - mentioned his liking for table tennis and ballroom dancing. In university, he was known to "dance solo at parties", according to China's People's Daily newspaper.
After graduating, he worked his way up through the ranks in the Ministry of Water Conservancy and Power.
Mr Hu once admitted he did not plan to have a career in politics. However, his successful rise within the Communist Party began after Deng Xiaoping's ascension to power in the late 1970s.
He was one of several young administrators promoted rapidly because of their performance or patrons.
Hu Jintao has served in key posts in some of China's poorest and most remote provinces. He headed the Communist Youth League in Gansu and became party chief in Tibet and Guizhou.
In Tibet, he demonstrated his toughness when he responded to separatist protests by declaring martial law, paving the way for similarly harsh measures to be used to end the Tiananmen Square demonstrations in Beijing.
When Mr Hu returned to Beijing as a member of the Politburo's seven-man Standing Committee in 1992, he took over key tasks such as handling personnel matters and supervising the ideological training of top officials.
According to the People's Daily, Mr Hu said: "A good leader must have firm beliefs and lofty pursuits, do solid work, seek no fame or gain, do away with a bureaucratic air and share the feelings of the masses."