China warns Dalai Lama on Tibet immolations comments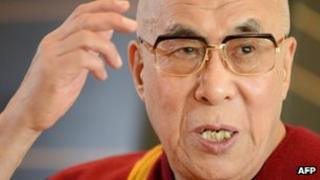 China has criticised Tibet's spiritual leader, the Dalai Lama, over comments he reportedly made on a spate of self-immolations by ethnic Tibetans.
Speaking in Japan, the Dalai Lama was quoted saying China was not "seriously" looking at the causes of the protests and focusing on blaming him instead.
China's foreign ministry accused him of "glorifying" the self-immolations.
Nearly 70 Tibetans have set themselves alight since 2011 in what activists say are protests against Beijing's rule.
Most are reported to have died. State media reported another self-immolation on Saturday, bringing to seven the number in the past week.
Gonpo Tsering, 18, set himself alight near a monastery in Hezou city in Gansu province, Xinhua news agency reported.
Beijing says Tibetans have religious freedom and accuses exiled Tibetan leaders of stirring up unrest.
The latest incidents have taken place as China's Communist Party holds a congress in Beijing that will begin the process of transferring power to a new generation of leaders.
Chinese Foreign Ministry spokesman, Hong Lei, said: "Not only did the Dalai not condemn them, but he actually glorified these acts, which are against the national law and religious principles."
He also accused the Dalai Lama of siding with right-wingers in Japan over a tense territorial dispute with China.
The Dalai Lama, who is on a visit to Japan, had used the Japanese name for an island chain claimed by both Beijing and Tokyo, Mr Hong said.
On the subject of self-immolations, the exiled spiritual leader had reportedly urged the Chinese government to investigate their cause.
"China does not look into it seriously and tries to end [the incidents] only by criticising me," Kyodo news agency quoted him as saying.
Foreign media are banned from the Tibet region, making the self-immolation cases hard to verify.
Chinese state media have confirmed some of the self-immolations, but not all.