China media: Xi Jinping's anti-corruption call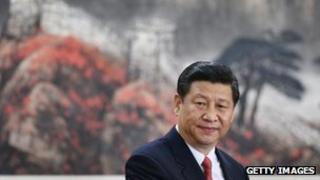 Tuesday's newspapers report an anti-corruption call by Vice-President Xi Jinping.
People's Daily and others publish an article by Mr Xi, the new Communist Party general secretary, in which he ordered all party members to strictly obey the party constitution.
In the article, Mr Xi urged party members to "be brave in conducting criticism and self-criticism, take the lead to spread a healthy spirit, and reject unhealthy trends and evil influences".
The article came after the papers published on Monday Mr Xi's speech at a politburo "learning session" on how to implement "the spirit of the 18th party congress". In it he reiterated President Hu Jintao's words at the opening of the party congress that corruption could "kill the party and ruin the country".
"Analysts say his remarks are a sign of the new leadership's determination to fight corruption in the coming years," Tuesday's China Daily says.
Shanghai Daily and Beijing News report the Central Commission for Discipline Inspection - the party's top anti-graft agency - published the work report it submitted to the party congress. The work report said punishing and preventing corruption was a "serious political struggle for the sake of the party and the nation's future".
Commenting on Mr Xi's speech, China Daily's editorial says: "[Mr] Xi obviously means what he said, and clearly the battle against corruption will be one of the major tasks of this central committee."
The Global Times' bilingual editorial says: "Some officials have undeclared 'grey' income. This expanding proportion of grey income is what defines corruption. We must root out grey income and make transparent officials' legal income."
Meanwhile, China Daily and others briefly report the first round of post-congress reshuffles.
Public Security Minister Meng Jianzhu replaces Zhou Yongkang as the secretary of the Committee on Political and Legislative Affairs, reports say, while Shaanxi party chief Zhao Leji succeeds Li Yuanchao as the head of the party's Organisation Department.
Activist lawyer Pu Zhiqiang told Hong Kong's Ming Pao Daily News the new security chief had a "less brutal" image than Mr Zhou, which is beneficial for implementing the rule of law in China.
Sing Tao Daily says the new personnel chief Zhao Leji is expected to tour Shanghai, Tianjin, Chongqing and Guangdong to announce appointments for new local party chiefs.
The Global Times and the Beijing Times report Ren Jianyu, a 25-year-old former village official in Chongqing, was released from a labour camp after local authorities found his labour camp sentence "improper".
Previous reports said Mr Ren was sentenced to two years of "re-education through labour" in August 2011 without trial after he posted messages on microblogs accusing disgraced former Chongqing party chief Bo Xilai of bringing the Cultural Revolution back to China with his "red songs" campaign.
A Beijing News commentary says it hopes Mr Ren's case will bring change to the "re-education through labour" system, and protect people from being convicted for exercising freedom of expression.
Shanghai Morning Post reports comments from Beijing's Foreign Ministry regarding US President Barack Obama's landmark visit to Burma. Spokeswoman Hua Chunying said China hoped the visit would be beneficial to peace and stability in East Asia.
A second bilingual editorial in the Global Times says: "Some have suggested that Obama's visit was aimed at weakening China's influence. Such assumptions regarding contests between great powers and the political changes in Myanmar (Burma) over the past year added special meaning to Obama's visit."
"Myanmar is becoming open to the West in order to maximise its national interests. But it's unwise to replace China with the West. Both the current leadership of Myanmar and opposition leader Aung San Suu Kyi well know this."
The editorial's Chinese edition further says in the headline: "Burma is very independent. There is no need for the US to show its unrequited love."