China leaders reassert control over security portfolio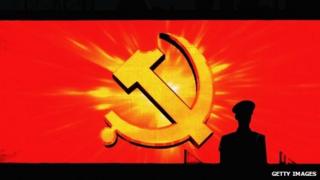 The BBC's Beijing Bureau looks at what lies behind the apparent downgrading of the internal security portfolio.
The message from China's state-run news agency was deceptively simple: Meng Jianzhu, a member of China's 25-member Politburo, would serve as the new secretary of China's Commission for Political and Legal Affairs.
In short, Mr Meng had become the country's new domestic security chief, supervising a sweeping national operation that commands China's police, prosecutors and courts. He also oversees the country's unsavoury elements; its secret police network, internet censors and some of its militias.
It is a big job. But unlike his predecessor, Zhou Yongkang, Mr Meng was not granted a seat on China's all-powerful Politburo Standing Committee, the elite seven-member team that makes decisions guiding the entire country.
Why would such an important official receive a demotion in the party hierarchy?
Backlash?
"What I think they're trying to do is to make sure the person who has control over the gun is not sitting on the Politburo Standing Committee," explains David Zweig, a China specialist at the Hong Kong University of Science and Technology.
China's military leaders have not sat on the Standing Committee since the 1970s. Now, the domestic security chief faces the same limitations.
The change is, in part, a backlash against the extraordinary amount of power wielded by the outgoing security chief, Zhou Yongkang, a master at commandeering government resources.
When the unsmiling Mr Zhou became the minister of public security in 2003, his budget totalled $20.3bn (£12.7bn). Four years later, that figure had expanded to more than $55bn.
"He did that by emphasising the imminent threat of social instability and the problem of mass incidents," explains Joshua Rosenzweig, a China researcher at the Chinese University of Hong Kong. Mr Zhou positioned his security apparatus as the only measure to ward off perceived threats to China's one-party rule.
When Mr Zhou was promoted to oversee all of China's domestic security, his resource base - and his influence - continued to grow. China's current $110bn domestic security budget is larger than its reported defence budget. Even on the Standing Committee, few could rival his authority.
That is, until Zhou Yongkang's political fortunes hit a roadblock earlier this year.
First, his reputation was hurt by his ties to disgraced politician Bo Xilai and Mr Zhou's reported attempts to defend his colleague. China's gossipy internet forums traded rumours that Mr Zhou and Mr Bo intended to stage a coup in Beijing, though the truth of that situation was never revealed.
A few months later, blind dissident Chen Guangcheng made a high-profile escape from house arrest. Somehow, he managed to evade dozens of security guards, relying on a network of fellow dissidents to make his way from his small hometown in Henan province to the US embassy in Beijing. Chen's escape was a major embarrassment for Mr Zhou's costly security network.
By then, it was evident to the architects of China's next government that the country's security chief should be placed below the Standing Committee. The reconfigured Standing Committee is designed so that all of the members have relatively equal amounts of power.
"It's a better way for the party to exert its control," Joshua Rosenzweig explains. "Meng Jianzhu is still going to be answering to someone on the Standing Committee but that person is not going to be directly in control of the security apparatus."
'No downplaying'
The party's attempt to reposition the country's security forces more firmly under its rule seems to have begun at lower levels earlier this year.
Provincial-level police chiefs, it appears, are being dissuaded from simultaneously serving on regional Political Legal Committees - powerful organisations governing the courts, the police and prosecutors. Slowly but surely, police chiefs are also losing their spots on the party's regional Standing Committees.
But China's dissident community should not celebrate yet. The security chief's reshuffle "is a way to manage the security portfolio", David Zweig explains, but the government is "not downplaying the importance of domestic security".
Indeed, China's police carried out an enthusiastic crackdown ahead of this month's Communist Party Congress, a pattern that is likely to be repeated when parliament convenes again in March.
The party has reasserted its power over the police, but it still requires help from the police to maintain control over the country.