Chen Guangcheng: Nephew Chen Kegui sentenced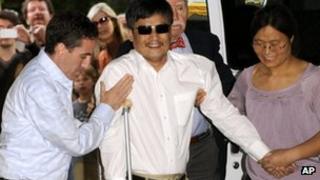 The nephew of blind activist Chen Guangcheng has been sentenced by a court in China to more than three years in jail for assaulting local officials who were looking for his uncle.
Mr Chen escaped house arrest earlier this year and then took refuge at the US embassy in Beijing.
After he fled, his relatives' homes were raided and his nephew, Chen Kegui, was detained by police after a scuffle.
The activist has long expressed fears his relatives would face reprisals.
In the past, China has frequently punished family members of well-known dissidents, the BBC's Martin Patience in Beijing reports.
Chen Guangcheng's escape caused a diplomatic crisis when it emerged that he had taken refuge in the US embassy. It was finally defused after weeks of uncertainty when Mr Chen was allowed to travel to the US for studies.
'Self-defence'
After he fled from his village, which was being guarded by government-hired guards, his relatives' homes were raided.
In an interview shortly afterwards, Mr Chen's brother and sister-in-law described being beaten by local officials.
But the authorities say that Mr Chen's nephew, Chen Kegui, hacked and wounded officials.
Family members say he acted in self-defence after the officials stormed his home and assaulted his parents.
He was originally charged with "intentional homicide" but the charge was later changed to "intentional injury".
Human rights groups have expressed concern over whether he would get a fair trial.
Chen Kegui's father, Chen Guangfu, confirmed to BBC Chinese that his son had been sentenced to three years and three months. Earlier he said that if his son was found guilty, he would appeal.
"I don't think that the verdict is fair. What my son did at the time is for self-defence, but for that he is now sentenced to prison for three years and three months," he said.
"He should have been found not guilty of any crimes because what he did to those who broke into his house [in] the middle of the night was for his self defence.
'Retaliation'
Chen Guangcheng in New York was quoted by the Associated Press news agency as saying that he was infuriated with the court's decision.
"This is a case that tramples on the rule of law. It is a declaration of war against fairness and justice in the world. I absolutely cannot accept this and am very, very angry," he said.
"There is no doubt that this is a kind of retaliation against me."
Chen Guangcheng, a self-taught lawyer, has campaigned against forced abortions under China's one-child policy and was jailed for four years in 2006 for disrupting traffic and damaging property.
He was placed under house arrest after his release in 2010.
After he sought refuge in the US embassy, the Chinese authorities allowed him to leave the country with his wife and two children to study at the New York University School of Law.
In August, after meetings in the US Congress, the activist urged Washington to investigate his case and protect his family at home in China's Shandong province.
Mr Chen said Beijing had not fulfilled guarantees made to him about his own treatment and his family's security when he left China.