China investigates top Sichuan official for corruption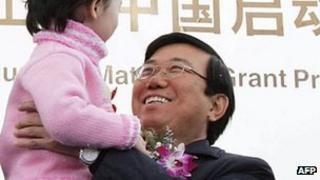 Chinese state media say the Communist Party is investigating a senior provincial official for corruption.
Li Chuncheng, 56, deputy party chief of Sichuan, is the most senior official to come under scrutiny since Xi Jinping became party head last month.
Mr Xi has said battling corruption in the party is a top priority.
Mr Li was elected onto the party's central committee as an alternate member last month. Media reports gave no details of any charges.
Xinhua news website carried a report on Mr Li that has since been removed. Hong Kong media have also reported on Mr Li.
The South China Morning Post newspaper, citing sources, said that Mr Li was put under "a disciplinary measure which allows for the detention and interrogation of party members suspected of corruption and other offenses".
Other reports said that Mr Li was last seen in public on 19 November at a party session and was detained on 2 December before being escorted away from Chengdu.
He spent most of his time Harbin City in Heilongjiang province before he eventually became mayor of Chengdu City in Sichuan in 2001.
He became deputy party chief in Chengdu, where he worked under Zhou Yongkang, a former member of the Party's Standing Committee in charge of security.
Mr Li became deputy party chief of Sichuan province last year.
The province adjoins the municipality of Chongqing, whose disgraced party leader, Bo Xilai, is also facing charges of corruption and abuse of power in one of China's biggest, recent scandals.
Mr Bo's wife, Gu Kailai, has been jailed for the death of British businessman Neil Heywood. His former police chief, Wang Lijun, also received a jail term in connection with Mr Heywood's murder.
In his inaugural speech on 15 November, Mr Xi said that corruption was an issue that needed to be resolved in the Communist Party.
In succeeding speeches, he also emphasised that corruption could "kill the party and ruin the country".