Chinese police chief 'sacked over mistress twins'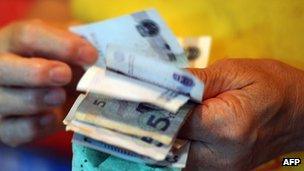 A police chief in China accused of keeping twin sisters as mistresses has been sacked, state media report.
The allegations against Wusu City police chief Qi Fang - including claims he gave his two mistresses police jobs - emerged online last week.
He was removed from his post on Saturday and is being investigated, Xinhua news agency quoted local party officials as saying.
He is the latest official to come under internet scrutiny over his behaviour.
The allegations against Mr Qi first appeared on a popular website in Xinjiang province, home to Wusu City, accompanied by a photo showing the scantily-clad mistresses in bed, Xinhua said.
The report on the website said Mr Qi had used his position to find jobs for his mistresses in the police force, the news agency added.
One of the women worked as a special operations officer while the other worked in the traffic department, according to other online reports.
The website also said that Mr Qi rented an expensive apartment for the sisters and charged the rent as an official expense.
A local party official was quoted by Xinhua as saying that while "part of the online allegations" were true, many details "remain unverified".
In recent months a number of Chinese officials have been investigated after allegations against them emerged on the internet, amid growing public anger over the perceived lavish lifestyles of some officials.
Chongqing district-level official Lei Zhenfu was sacked last month after a video showing him having sex with an 18-year-old was released by a whistle-blower. The sex tapes were linked to a blackmail scheme involving corruption, reports said.
A safety official in Shaanxi province whose luxury watch collection caught the attention of internet users was stripped of his official duties after an investigation.
In his inaugural speech on 15 November, Xi Jinping, the new head of the Communist Party, said battling corruption was a top priority. In subsequent speeches he called it something that could "kill the party and ruin the country".