China 'ecological footprint' fears fuelled by retail bonanza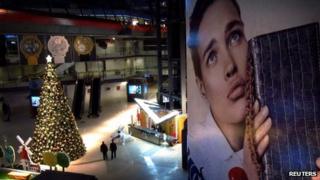 In Mandarin Chinese, the number 12 sounds vaguely like a declaration of love - a coincidence retailers and shoppers have been celebrating with gusto on the 12th day of the 12th month of 2012. But as the BBC's Beijing bureau reports, there is growing concern over the environmental price of unbridled consumption.
"Thirty per cent off home appliances!" screams one Chinese online retailer.
"Buy 300 yuan [$48; £30] worth of goods to get an 80 yuan [$14; £8] discount!" urges another.
Almost every major Chinese retailer is featuring a special deal honouring 12 December.
"Companies have made up a special festival to ask consumers to buy more," explains avid online bargain hunter Stella Yang.
The 24-year-old has just moved to Beijing to hunt for a job after graduating in the UK.
Since her arrival, Stella has been busy trawling China's online shopping sites for items to fill her new Beijing apartment.
"I bought some basic things, like furniture and decorations for my new home," Stella told the BBC. "And clothes!"
Stella was logging onto her favourite sites on Tuesday to look for additional deals.
Ecological footprint
But a shopper's delight is an environmentalist's nightmare.
China has the world's biggest ecological footprint, according to the Ecological Footprint Report released on Wednesday by WWF International.
Chinese citizens are now consuming resources at 2.5 times the rate at which the country's ecosystems can provide.
The footprint calculates the environmental impact of products consumed within a country, excluding products that are manufactured for export.
WWF International worked with the Chinese Academy of Social Sciences and the Zoological Society of London to produce the biennial report, following similar studies in 2008 and 2010.
The latest report uses data from 2008, the most recent year available. Even though it is four years old, the upsurge in China's domestic consumption is unmistakable.
"Changing consumption patterns associated with increased affluence in China's increasingly urban population have contributed to the increase in total ecological footprint," the report says.
"Its carbon footprint has become the largest individual component... and has seen the greatest increase, particularly in urban areas."
Model of growth
Before 1978, increases in China's ecological footprint could be attributed to population growth.
Until recently, China's infrastructure projects were the main culprits behind its growing ecological footprint.
But now, a boost in individual buying is one of the biggest drivers of the country's consumption of resources.
"Most of the footprint comes from the fact that people are buying much more stuff," explains WWF International's Director General Jim Leape.
"They're buying appliances and cars, which also use energy. But they're also spending more on clothes and on food and on other things."
If everyone in the world lived as the average Chinese citizen now lives, Mr Leape says, we would need 1.2 planets to support us.
China nevertheless ranks a lowly 74th in worldwide per capita consumption, far behind older industrial economies like those of the United States and the European Union.
If everyone on earth lived the way Americans now live, we would need four planets to support our lifestyle.
"One could argue that China is following a path that those countries took. But the simple truth is that China can't afford to follow that path," Mr Leape explains.
Instead, the WWF's report concludes that Chinese leaders must strive to improve the population's quality of life without following the flawed 20th Century model of growth.