Home ownership dreams in booming Beijing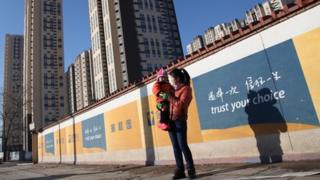 The BBC's Beijing bureau looks at the housing market in the Chinese capital - and how many residents' dreams exceed their reach.
It was a bargain China's zealous real estate buyers couldn't refuse: at the East Asia Impressions Lake compound in suburban Beijing, apartments were selling for just 13,000 yuan ($2,086; £1,282) per square metre.
Similar apartments located closer to Beijing's central business district cost approximately 20,000 yuan per square metre, according to Savills, a global real estate broker. In comparison, an average flat near London's financial centre costs 50,000 yuan, while in New York the figure rises to a whopping 68,000 yuan.
Three hundred apartments in the compound went on sale at 0900 on a Saturday morning in late November. Within three hours, all of them were sold.
China's sizzling urban housing sector has been a fact of life since the country's private real estate sector opened in 2000 and it is not uncommon to hear of whole apartment towers selling just as quickly as the ones at East Asia Impressions Lake.
But a large chunk of Chinese society has been left out of the buying frenzy. More than 100 million people are expected to move from the country's rural areas to its cities in the next eight years, and few of those people can afford to step onto the property ladder. That's placing pressure on China's leadership to provide safe, affordable housing solutions.
That's not counting the urban workers who have already moved to the city. Rosealea Yao, principle analyst with Beijing-based Gavekal research, estimates 50 million urban migrants are already living in substandard housing, lacking their own kitchen or bathroom.
Duan Libin's tiny one-bedroom apartment has those amenities, but she's still desperate to move into her own home. If you have your own house, you don't have to worry about rent," she explains. "If you rent, you have to move all the time and you're busy for no reason."
Duan holds a stable job as a researcher at China's National Museum in Tiananmen Square. She moved to Beijing from her native Yunnan province for university and decided to stay after meeting the man who would become her husband. Originally from a small village in Shandong province, he now teaches history at a Beijing high school.
The couple are expecting a child and would love to move before their baby arrives in April.
"Every day I work so hard, and then I have to return to a small space after standing on the crowded train for a long time," Duan says. However, their combined monthly income of 8,000 yuan means they could never afford to purchase even a modest apartment like the ones at East Asia Impression Lake.
Tax incentives
Last year, new home prices increased every month since June in major cities across China. In Beijing alone, residential apartment sales grew 50% between January and November, topping 290bn yuan.
Those numbers highlight the Chinese leadership's failure to throw cold water on the overheating housing market. Chinese investors have few places to stash their ample savings, so it is common for them to purchase homes that then sit empty. That drives up prices for the rest of the population.
In this environment, Duan and her husband turned to an increasingly popular option: they applied to purchase a small apartment in government-subsidised housing.
China's central government is eager to meet the ambitions of people like Duan Libin by setting ambitious targets for affordable housing, announcing the completion of 36 million affordable housing units by 2015.
Many analysts say that number is unrealistic, but local officials have little choice but to scramble to reach that target, since their promotions are partly based on their ability to meet the affordable housing quota in their area.
However, it is also in the interests of local governments to minimise their costs. Luxury residences generate more in taxes and land transfer costs, while local officials must often grant tax exemptions and free land for government-subsidised housing.
This conflict of interest is solved by allocating affordable housing on plots of cheap land located outside the city, explains Rosealea Yao.
"In Chongqing and other areas, you see massive projects for social housing very, very far away, in the middle of nowhere, away from the city centre," she says. "The government promises there will be a bus line, or there will be a subway line, but there's really no incentive for them to do that."
Sometimes, cheap government housing is so remote that no one wants to live there. One project in Wuhan attracted the attention of China's state-run media because it was 70% empty. Residents would have to spend at least 100 yuan a month - a significant percentage of their salaries - commuting to work every day from the apartments' far-flung location.
Duan and her husband are luckier than most migrants; their jobs provide them with residence permits that allow them to apply for Beijing city housing. Even so, they face a three-year wait for a place in the Jingyuan Road housing project in Beijing's outer Shijingshan district, far away from any public transportation. Duan is already planning to buy a car to get to work.
A greater worry: Duan admits she has no confidence that the allocation process will distribute apartments fairly. "Some people have pulled strings," she says. She is already expecting to wait for another three years before her name gets to the top of the housing list.
But still, the expectant mother jokes that she would be an old lady before she could ever afford a home of her own in Beijing without government help.
So why not rent forever then? Owning a home brings a sense of stability, she says, that can't be found elsewhere. "If I buy an apartment, I have a home of my own. Every day when I get off work, and I see the light from my own house, I will see hope."