China railway firm in fatal 'tunnel blast cover up'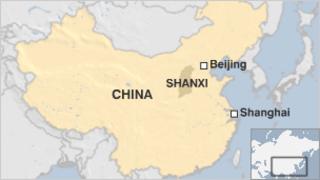 A railway company in northern China has been accused of covering up an explosion in a tunnel last month which left eight dead, state media report.
A subsidiary of the state-owned China Railway Tunnel Group "purposely concealed" the explosion in northern Shanxi province, Xinhua says.
The case was brought to light by internet users, but officials have denied rumours that as many as 60 died.
It was initially thought to have been caused by illegal blasting at the site.
Xinhua said that the construction project's manager concealed the accident, which took place on 25 December in Linfen.
Local officials have promised a thorough investigation into the matter and said that severe punishments will be given out to those involved.
On Wednesday, acting Shanxi governor Li Xiaopeng, son of former Premier Li Peng, visited the site of the explosion.
"I felt remorse that government departments at different levels had not paid proper attention to the accident for such a long time," he was quoted by Hong Kong-based newspaper, the South China Morning Post, as saying.
He also acknowledged the role netizens played in exposing the incident, according to reports.