China anger at US remarks on East China Sea islands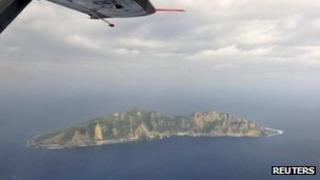 China's foreign ministry has strongly criticised the US for backing Japan's control of a disputed group of islands in the East China Sea.
Ministry spokesman Hong Lei said the view, expressed by Secretary of State Hillary Clinton, "neglects the facts".
Mrs Clinton had warned that the US opposed any action that would undermine Japanese administration of the islands.
The row over the islands, called Diaoyu in China and Senkaku in Japan, has left ties between Tokyo and Beijing tense.
In her comments on Friday following a meeting with Japanese Foreign Minister Fumio Kishida, Mrs Clinton said the US did not take an official view on the sovereignty of the islands.
But she said Washington opposed "any unilateral actions that would seek to undermine Japanese administration".
"We want to see China and Japan resolve this matter peacefully through dialogue."
"We do not want to see any action taken by anyone that could raise tensions or result in miscalculation that would undermine the peace, security and economic growth in this region."
In Monday's regular briefing to journalists, Mr Hong said the US "bears undeniable historical responsibility on the Diaoyu issue".
"The US comments ignore facts and confuse truth with untruth," he said.
"China is strongly displeased and firmly opposed to it. We urge the US to responsibly treat the Diaoyu issue, watch their words and deeds, maintain regional stability and Sino-US relations, so that Chinese people can trust them."
Mr Hong added that there was no doubt that China owns the islands, and said the reason for the "extreme tensions" was Japan's "illegal purchase" of them.
It was the second time in two days the foreign ministry had condemned the remarks - on Sunday, spokesman Qin Gang said the ministry "resolutely opposes" the US remarks.
The row over ownership of the islands, which lie south of Okinawa and north of Taiwan, has been rumbling for years.
It reignited in September when the Japanese government purchased three of the islands from their private Japanese owner, leading to protests in some Chinese cities and fall-out for some Japanese businesses operating in China.
Chinese government ships have since sailed many times through what Japan says are its territorial waters around the islands.
On Monday, Japan said three Chinese maritime surveillance ships had again entered waters around the islands in the early morning, spending about 15 minutes there.
China had already said it had three ships patrolling the area. It announced last week it would be carrying out a geological survey of the islands as part of its "programme to safeguard its maritime rights and interests".
Japan's foreign ministry lodged a protest with the Chinese embassy, the Kyodo news agency reports.