China's Qidong pipeline protest ends with guilty pleas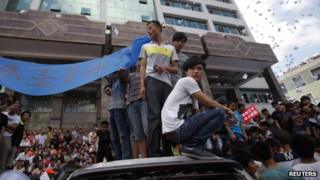 Fourteen people have pleaded guilty to charges of "encouraging mass violence" during a protest in the city of Qidong, Chinese state media say.
Government offices were stormed as thousands of people demonstrated against a proposed waste water pipeline project in July 2012.
The project, which local people said would pollute coastal waters, was subsequently scrapped.
Defendants would be sentenced at a later date, Xinhua news agency said.
The protest was one of a series of high-profile incidents in which local people have objected to development or industrial projects on environmental grounds.
In Qidong, the pipeline was proposed by a paper-making company.
As thousands of people turned out, the local Communist Party chief and the mayor were stripped of their shirts by angry protesters who wanted them to wear T-shirts bearing an anti-pollution slogan.
The 14 defendants were tried on Wednesday. Prosecutors said their "violent behaviour caused property losses, injured police officers and severely disrupted public order", Xinhua reported.