Two cases shine spotlight on China domestic violence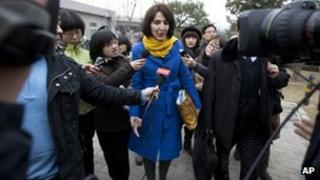 On Sunday a marathon divorce case with domestic violence at its core came to an end in a Beijing court.
On one side was Li Yang, the multimillionaire celebrity entrepreneur who founded the English teaching school "Crazy English".
On the other was Kim Lee, Li Yang's American wife; she had accused Mr Li of domestic violence and wanted a divorce and sole custody of their three daughters.
The judge granted the divorce on the grounds of domestic abuse, plus a three-month restraining order to Ms Lee.
The court also ordered Mr Li to pay Ms Lee 50,000 yuan (about $8,000: £5,000) for mental anguish, alimony for their daughters until they turn 18, plus 12 million yuan as compensation.
After the verdict, a visibly relieved but tearful Ms Lee told reporters and supporters: "It's not the best way, to sort out one's marriage in court, but the domestic violence has really hurt me from the inside."
She urged women who are still suffering to use the law to protect themselves.
The battle between the couple started in August 2011, when Ms Lee posted several pictures on Sina Weibo, the microblogging website, showing bruises on her body she claimed were the result of being beaten by her husband.
The pictures went viral. Many were shocked and voiced their concern. Others thought Ms Lee went too far, while Li Yang himself issued denials and threats.
Li Yang is a household name in China, having pioneered the Crazy English teaching methodology in the mid-1990s. More than 30 million people have attended his lectures.
The high-profile case brought an issue that not many people want to talk about openly right to the heart of the national conversation.
On Tencent Weibo, there is a lot of anger directed at Li Yang.
"How can he educate other young people when he behaves like this?" one user asked.
"Li Yang's behaviour is inexcusable - it should be condemned; financial punishment is not enough, he should taste what he had done to his wife," another user suggested.
Death sentence
According to a national survey carried out in 2011, one in four married women in China has experienced some form of domestic violence.
In the past, many battered women regarded this as a domestic issue and felt reluctant to report it, but attitudes are changing gradually.
According to state news agency Xinhua, in 2005 courts in Beijing dealt with 217 cases involving domestic violence; in 2011 the number had risen to 657.
While Kim Lee scored a victory against her famous husband, another court case might have a more harrowing ending.
Li Yan (unrelated to Li Yang), a woman in Sichuan province, was sentenced to death in August 2011 for killing her husband, Tan Yong.
Li said she had suffered years of abuse and violence at the hands of Mr Tan, including being burned by cigarette butts, having part of her finger chopped off and being locked out of their accommodation in winter.
Li Yan complained about the abuse to local police and community officials, but they did nothing to investigate.
In November 2010 she killed her husband during a fight, hitting him with the butt of an air rifle that, Li's lawyer says, Mr Tan had threatened to shoot her with, and dismembered his body.
Evidence of abuse including police records, hospital records, witness testimony, pictures of her injuries and complaints to the ACWF (All China Women's Federation) were presented in court, Human Rights Watch said in a 30 January statement, but the court ruled that it was not enough to prove she had suffered domestic violence.
Li Yan appealed against the death sentence on self defence grounds, but it was rejected by the Sichuan high court.
There are reports that the People's Supreme Court has given the green light for the death sentence to go ahead, although defence lawyer Guo Jianmei says that she hasn't received the decision. Executions normally take place within seven days of the Supreme Court decision.
Why no evidence?
There have been frantic efforts in the past few days to stop the execution. On 25 January, more than 100 lawyers, scholars and NGO workers urged the Supreme Court to reconsider its decision.
Amnesty International also sent in a petition, arguing that if those in power had offered sufficient protection, the tragedy could have been prevented.
People have also taken to social media to express their opinions.
"Sentencing Li Yan to death is against the spirit of the law; she was defending herself, which is a just act," one person wrote on Tencent Weibo.
"Li Yan suffered for a long time, how come the court can't find any evidence?" another asked.
China does not have laws specially designed for domestic violence, which presents problems for court cases, such as the definition of domestic violence and difficulty with obtaining evidence.
There is also lack of support for sufferers, as highlighted by Li Yan's case.
Perhaps these high-profile cases will force domestic violence to be taken more seriously by courts and by society as a whole.