China media: Pyongyang warned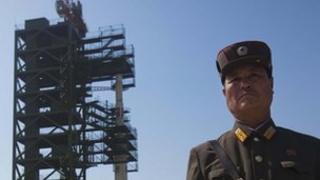 One of China's leading newspapers, The Global Times, again warns North Korea against conducting another nuclear test.
The paper urges China to reduce aid to North Korea if it goes ahead with a third nuclear test in defiance of a United Nations Security Council resolution.
"If North Korea insists on a third nuclear test despite attempts to dissuade it, it must pay a heavy price. The assistance it will be able to receive from China should be reduced. The Chinese government should make this clear beforehand to shatter any illusions Pyongyang may have," says a bilingual Global Times editorial.
"China is never afraid of Pyongyang... If Pyongyang gets tough with China, China should strike back hard, even at the cost of deteriorating bilateral relations," it adds.
Zhang Liangui, a North Korea expert at the Communist Party's Central Party School, tells Global Times that China "will forever lose the chance to play a dominant role" in resolving the crisis if it fails to deter Pyongyang from going ahead with the test.
"This is a grave test of China's diplomacy," Prof Zhang warns.
Japan's protest to Beijing yesterday over Chinese frigates allegedly directing weapons-targeting radar at a Japanese destroyer on 30 January as well as a military helicopter on 19 January continues to top the headlines of news portals Sina and Sohu this morning.
"Japan is engaging in hype over this matter to propagate a China threat theory" in order to engineer support for "further military expansion and preparations for war", military expert Song Zhongping tells Sina.
Ni Lexiong, a military naval expert at the Shanghai University of Political Science and Law, believes China's alleged radar moves were a "face-off" between the two countries and "a warning to Japanese vessels", South China Morning Post reports.
"It is a threatening sign to Tokyo," the Post quotes Macau-based military specialist Antony Wong Dong as saying.
Experts say Japan's new publicity office on the disputed Senkaku Islands, which are claimed by China as Diaoyu, could "undermine" recent efforts by the two countries to mend relations and "provoke China", China Daily reports.
Xinhua News Agency and People's Daily dismiss recent allegations of China-based hacker attacks by US newspapers as an excuse by the US to engage in "'pre-emptive' cyber-attacks'".
A Human Rights Watch report critical of China's internet restrictions "intentionally distorts and misreads some phenomena in China", a university academic writes in China Daily.
Turning to domestic news, People's Daily hails the government's long-awaited guidelines on reforming income distribution unveiled yesterday as "an important step forward" in addressing inequality.
A Global Times editorial calls the guidelines "a major event in China" that "involves the interests of millions of households" in tackling growing wealth disparity.
People's Daily and China Central Television gives top billing to Communist Party leader Xi Jinping's call for officials to "stay away from empty gestures" and hedonism during his weekend visit to impoverished villages in Gansu.
China Daily says Mr Xi's warning comes amid a backdrop of recent scandals involving officials.
Gong Aiai, a former banker, nicknamed "House Sister" for allegedly buying 41 flats in Beijing with fake hukou, or household registration identities, is in police custody in Shaanxi on suspicion of forgery, Beijing Times reports.
A Guangdong public security official, dubbed "House Brother", was also dismissed for allegedly owning 192 properties, Xinhua reveals.
Meanwhile, a state-run company boss in Zhuhai known as "Wine-Learning Brother" was also sacked for an alleged lavish banquet paid for with public funds, Nanfang Daily reports. Zhou Shaoqiang earned his nickname for allegedly buying 12 bottles of expensive red wine at the meal to "learn about wine".
Yesterday, 10 interceptors were handed prison terms in Beijing for beating and illegally detaining petitioners in a "black jail" last year, however, the officials who hired them were not sentenced in court, China Youth Daily and China Daily report.
Migrant worker Zhang Derong was allegedly beaten to death in a back-pay dispute by thugs hired by a construction company in Chengdu, triggering a stand-off between riot police and hundreds of migrant workers and supporters, South China Morning Post reports.
Olympic champion swimmer Sun Yang is rebuked by People's Daily after he was barred from commercial activities and product endorsements over a dispute with his coach at a training session.
Beijing has launched a firework safety index during the upcoming Chinese New Year holidays that advises against setting off fireworks and firecrackers in poor weather conditions, China Daily reports.
And finally, China Central Television and South China Morning Post say internet users are increasingly curious about the mysterious identity of the person or team behind a Sina Weibo microblog dedicated to Mr Xi.
Amy Li, online editor of the South China Morning Post, says the microblog site has "intrigued Chinese media and netizens with its exclusive photos and insider knowledge of the country's most powerful man" since its launch.
Ms Li notes that many of the photos of Mr Xi appear to have been shot with a mobile device at close range.
BBC Monitoring reports and analyses news from TV, radio, web and print media around the world. For more reports from BBC Monitoring, click here. You can follow BBC Monitoring on Twitter and Facebook.