China arrests over Tibet immolations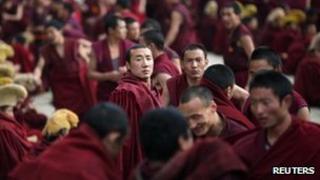 At least 12 people have been arrested and dozens more have had their movements restricted for encouraging Tibetans to set themselves on fire, officials in western China say.
A security official in Qinghai said police had taken action against more than 50 people since November 2012.
Six Tibetans were jailed in Gansu province last week on similar charges.
Nearly 100 Tibetans have set themselves on fire since 2009, many fatally, in apparent protest at Chinese rule.
China has accused the exiled Dalai Lama and foreign media of encouraging the protests.
A string of convictions last week were believed to be the first since a legal ruling in China stipulating that anyone aiding immolations would be charged with murder.
But activists have said that the trials of those accused of helping them are a sham. Lobsang Sangay, prime minister of the Tibetan government-in-exile, said such trials had "no basis or legal process".
Most of the self-immolations have taken place in ethnic Tibetan areas outside Tibet.
Many have involved Buddhist monks or nuns calling, Tibetan activist groups say, for greater religious freedom and the return of their exiled spiritual leader, the Dalai Lama.
Beijing says Tibet as a region is getting wealthier and that Tibetans have religious freedom. China's leaders blame the Dalai Lama for inciting the self-immolations and encouraging Tibetan separatism, a charge he strongly rejects.
Foreign media are banned from the region, making verifying the self-immolation cases difficult. Chinese state media have confirmed some but not all.