US basketball star Kobe Bryant joins China's Sina Weibo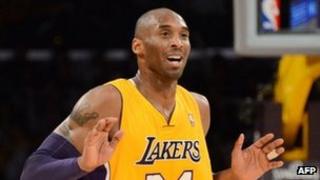 US basketball star Kobe Bryant has joined the Twitter-like Chinese micro-blogging site Sina Weibo, gaining thousands of followers within hours.
Bryant posted a photo of himself in a blue suit and the message: "Valentine's day sneaks ready to break Clippers hearts. Big game tonight."
The message appeared on Friday, hours before his team, the Los Angeles Lakers, were to play the Clippers.
Bryant, who is popular in China, already has at least 326,000 followers.
Sina Weibo, which says it has more than 400 million users, has verified Bryant's account.
The opening of Bryant's account came days after he posted a message on a Weibo account run by Nike Basketball that wished followers a "Happy New Year". China ushered in the Chinese New Year earlier this week.
Bryant, one of the US's highest paid sportsmen, is also known as one of the most decorated players in basketball history.
He played a key role in the Los Angeles Lakers' three successive NBA Championship wins between 2000 to 2002.
He also has an Olympic gold medallist for men's basketball.
He has at least 1.3 million followers on Twitter.
Several non-Chinese celebrities have recently opened accounts on Sina Weibo in an effort to reach Chinese audiences.