Yang Dacai row: China Communists sack 'smiling official'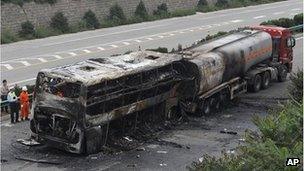 An official in China who sparked an outcry after images showed him grinning at the scene of a fatal bus crash has been expelled from the Communist Party and faces charges, state media report.
Yang Dacai was sacked last September by officials in Shaanxi province for "serious wrongdoing".
Public outrage grew when netizens found images of him wearing luxury watches.
There is growing anger in China over alleged wrongdoing by officials. It is unclear what precise charges he faces.
China's leader Xi Jinping has promised he would battle both "tigers" and "flies", indicating that officials of all ranks in the country were under scrutiny.
Some Chinese campaigners have also set out to act as "whistleblowers", exposing the actions of various officials.
Pictures of Mr Yang smiling while visiting the site where 36 people died on 26 August were posted online. This was followed by images showing him wearing luxurious watches that critics say he would not have been able to afford on his salary.
Responding to criticism that he grinned at the scene of the crash he said: "My heart was heavy when I reached the scene... Junior officials appeared nervous when they were updating me on the situation.
"I was trying to get them to relax a little, so maybe, in an unguarded moment, I got a little too relaxed myself."
He also explained that he "used legal income" to buy a number of watches, saying that the most expensive one he owned was worth 35,000 yuan ($5,550, £3,420).
Related Internet Links
The BBC is not responsible for the content of external sites.