China media: Wen's mixed legacy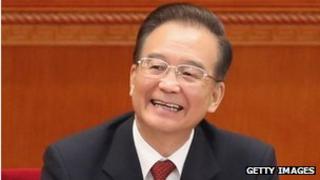 Media in China praise Premier Wen Jiabao's final work report delivered to the opening of the National People's Congress, but say his many unfinished reforms leave a mixed legacy and tough challenges ahead.
China Daily says Mr Wen handed in a "proud score sheet" despite outlining a litany of problems left to his successors such as a "conspicuous increase" in social conflicts, environmental degradation and systemic blocks against reform.
The People's Daily Overseas Edition praises Mr Wen's government for giving top priority to solving livelihood problems by reining in consumer prices and building affordable housing.
But the newspaper warns that social inequality and corruption have "worsened the social atmosphere" and says ordinary people's health and well-being is at threat from pollution, inadequate social welfare, tainted food and other problems.
The Beijing News also pays tribute to the people-oriented agenda of Mr Wen's government but notes similarly that pollution, livelihood problems and a growing wealth gap could even offset achievements if not tackled soon.
Over in Hong Kong, Ming Pao and Apple Daily highlight how Mr Wen made no mention of political reform in his last report.
Oriental Daily News says Mr Wen's farewell has been overshadowed by a New York Times expose last year into the alleged fortune of his family.
Hong Kong's South China Morning Post says Mr Wen's image has been tarnished by the New York Times allegations and "leaves a mixed legacy" of impressive economic advances, successful healthcare and rural policies, but also corruption, wealth disparity and social discontent.
Pressure on Pyongyang
Turning to international news, state television and major newspapers say the Chinese foreign ministry supports a "prudent" and "moderate" UN Security Council response to North Korea amid its threats to nullify a 1953 cease-fire that ended the Korean War.
Global Times says North Korea's threat comes amid reports that China and the US have struck a "tentative deal" on a UN Security Council draft resolution on tougher sanctions against North Korea for its nuclear test last month.
"North Korea deserves punishment from the international community. However, I don't think China should have its own version of sanctions against the North, even though it also challenged China's last-minute efforts to stop the nuclear test," Su Hao, conflict management expert at the China Foreign Affairs University, tells Global Times.
Shen Dingli, an expert on arms control at Fudan University in Shanghai, tells the newspaper that the UN should not hold back on sanctions but says the international community, especially the US, should give security guarantees to Pyongyang and keep the door to negotiations open.
Tao Duanfang, a commentator for Sohu news portal, is baffled at how North Korea has switched from making telephone overtures to US President Obama to threatening to cut phone lines at the border post in Panmunjom.
He says Pyongyang is ringing out for attention in the face of increasing isolation by the US and international community.
A Global Times editorial also rebukes North Korea for "over-reacting" but stresses that the "failed policies" and "bluff tactics" of Pyongyang, Seoul and Washington are all to blame for heightened tensions. It urges them all to "give up illusions of mutual intimidation".
Shi Yuanhua, Koreas expert at Fudan University in Shanghai, tells China Daily that North Korea's threat to cancel the armistice is in protest against ongoing US-South Korean military drills using more powerful weapons and to "prompt Washington back to the negotiating table".
"What North Korea wants is to take a stand, rather than prepare for actual war," Jia Xudong, researcher at the China Institute of International Studies, writes in Beijing Times.
In other international news, there is high-profile media coverage of the death of Venezuelan President Hugo Chavez, but little comment.
China News Service notes simply that "Chavez was friendly towards China and visited China many times during his lifetime".
Meanwhile, a bilingual Global Times editorial stresses that China needs a stronger military to face off strategic "hazards" from Japan, the Philippines and other neighbours "bolstered by a sense of US support".
Military experts tell Ming Pao that China's military spending increase is actually lower than the last two years in order to reassure the world of its peaceful intentions amid territorial disputes.
However, Andrei Chang, editor-in-chief of the Canadian-based Kanwa Asian Defence Monthly, tells South China Morning Post that China's military budget misses out technology research and overseas weapons purchases.
Actual defence spending could be three times higher than the projected 10.7%, he is quoted as saying.
BBC Monitoring reports and analyses news from TV, radio, web and print media around the world. For more reports from BBC Monitoring, click here. You can follow BBC Monitoring on Twitter and Facebook.