China media: Death of Chavez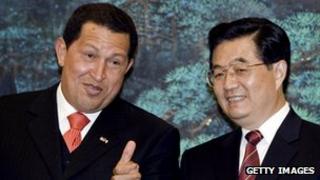 Media in China mourn the death of Venezuelan leader and "good friend" Hugo Chavez and believe an opposition victory will not derail ties.
President Chavez, who visited China six times, is remembered in Beijing as "strong and vibrant", and a "good friend" of the Chinese, China Daily says.
"He has made significant contributions to advancing the friendly and co-operative relations between China and Venezuela," a Chinese foreign ministry spokeswoman said on Wednesday.
"Chavez was an old friend of the Chinese people" who was "demonised" by the West, a bilingual Global Times editorial says.
The editorial says ties will remain strong and that China should offer an alternative to Latin America instead of "the US having the final say".
Wang Zhen, former ambassador to Venezuela, recounts to The Beijing News how Mr Chavez said he would always "be a friend of the Chinese" in a phone call before being detained temporarily during a coup attempt in 2002.
He recalls how Mr Chavez often quoted the revolutionary ideas of Mao Zedong and his favourite Chinese dishes were Peking duck, sea cucumber and Kung Pao chicken.
Yang Zhimin, Latin America expert at the Chinese Academy of Social Sciences, tells Global Times that the Venezuelan opposition is unlikely to win an election within 30 days and says Chavez's death does not signal the end for the Latin American left.
However, in Oriental Morning Post, Zhang Jianxin, international relations professor at Shanghai's Fudan University, predicts the demise of the "radical anti-American" left in Latin America and as moderates representing the middle class come to the fore.
Turning to North Korea, Vice Foreign Minister Cui Tiankai dismisses earlier media reports of China and the US striking a deal on sanctions as "inaccurate".
"The UN Security Council is discussing how to respond to North Korea's nuclear test. This is a consensus reached by the 15 member states of the Security Council, not something between China and the US," Mr Cui tells China Youth Daily.
China Daily backs sanctions against Pyongyang but stresses that they must be "kept at a moderate level" to prevent an escalation of tensions.
Tensions "exaggerated"
Meanwhile, on the sidelines of ongoing parliamentary and advisory body sessions in Beijing, former defence ministry official Qian Lihua says China's tensions with foreign countries have been "exaggerated" and China and Japan have been willing to resolve disputes through diplomacy, China Daily reports.
The Chinese military has a "strong" exchange plan, including joint military drills with Russia and the US, he adds.
A new residence permit system will allow migrant workers to receive social welfare and settle in cities where they have no hukou, or household registration, Southern Metropolis Daily reports.
Hong Kong's South China Morning Post quotes insiders on Premier Wen Jiabao reportedly telling an internal party forum in January that he regrets not preventing his children doing business in China. The New York Times ran an expose last year on the alleged fortune of Mr Wen's family.
Sina features a video of Chongqing party boss Sun Zhengcai telling foreign reporters that his city is still investigating a recent sex photo extortion scam targeting officials. Mr Sun says a corruption investigation into his predecessor, Bo Xilai, has been handed over to judicial organs.
Ming Pao asks Yu Zhengsheng, who is tipped to be the next chairman of the nation's top advisory body, to clarify his statements during a meeting with Hong Kong and Macau advisors reportedly calling for "patriots", not "opposition" forces, to run Hong Kong after universal suffrage is attained.
Wen Wei Po says such "opposition" forces are inciting hatred of mainlanders, displaying the old British colonial flag of Hong Kong and demanding "independence".
The Beijing News backs a proposal by the capital's mayor to follow the example of the Yangtze River Delta and Pearl River Delta regions and set up a joint air pollution control system between Beijing, Tianjin and Hebei.
The Beijing News also welcomes calls by CPPCC and NPC deputies to quit smoking and remove ashtrays from meeting halls or at least smoke outside.
Meanwhile, internet users are blaming air pollution on NPC deputy and Hangzhou mayor Shao Zhanwei's death from a heart attack in Beijing yesterday, Apple Daily reports.
Global Times says an outraged public in Jilin province are demanding the death penalty for a man who has apparently confessed to killing and burying in snow a baby found in the back seat of a stolen car.
Local media tell South China Morning Post that a media blackout has been imposed on further coverage of the case.
BBC Monitoring reports and analyses news from TV, radio, web and print media around the world. For more reports from BBC Monitoring, click here. You can follow BBC Monitoring on Twitter and Facebook.