China media: North Korea sanctions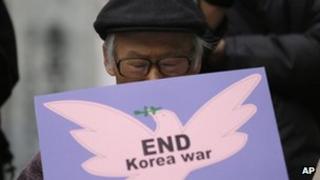 Media and experts in China back UN sanctions against North Korea, but call on all sides to stay calm and return to peace talks.
Global Times endorses China's vote yesterday supporting a new UN resolution on sanctions, but reminds the outside world that Beijing is "caught in the middle" with its "thankless" task of mediation.
It also urges Pyongyang to have a "rational view" of the new resolution and refrain from "irrational moves" that may escalate tensions, but says other parties are also responsible for heightening tensions.
"The US, South Korea and Japan should abandon fantasies of coercing Pyongyang through sanctions. They should make efforts to ease North Korea's sense of strategic insecurity," the newspaper adds.
Yu Shaohua, Koreas expert at the China Institute of International Studies, a foreign ministry think-tank, foresees no prospect of North Korea carrying out its threat of a pre-emptive nuclear strike against the US because of technological limitations, but notes that the sanctions will not deter it from building nuclear weapons.
"While pressuring it, the international community should also leave some leeway for negotiations and create conditions for dialogues," Prof Yu tells Global Times.
Gong Keyu, North Korea expert at the Shanghai Institute of International Studies, however, tells Ming Pao that China's support again for UN sanctions indicates that it may adjust its policy or even partially cut off North Korea in the future.
Cao Shigong, a Koreas specialist at the Chinese Association of Asia-Pacific Studies, hits out at "agitators" speculating that the US will allow North Korea to have nuclear weapons in a "private deal" aimed at isolating China.
"This kind of argument, defaming North Korea as an ungrateful scoundrel, intends to do nothing but alienate the relationship between China and North Korea," Cao Shigong writes in Global Times.
Knife attack
Turning to domestic news, a Xinjiang government spokeswoman has confirmed to South China Morning Post that that a man armed with a small knife killed four people and injured 11 others in a shopping district of Korla in central Xinjiang yesterday.
Spokeswoman Hou Hanmin says one suspect involved in the incident is in custody, but did not confirm the ethnicity or identities of the suspect and victims, the newspaper says.
The attack coincides with a meeting of the Xinjiang delegation to the National People's Congress (NPC), China's legislature, in Beijing yesterday.
During the meeting, the governor and party boss of Xinjiang said exaggerated reports about ethnic discord were misrepresenting the region's improving situation. They also stressed that the region must stay vigilant against separatism, terrorism and religious extremism, China Daily says. The report makes no mention of any attacks in Xinjiang yesterday.
Guangzhou Daily and China Youth Daily praise deputy Zhu Zhangjin for showing over 300 samples of adulterated foods during a meeting of the Zhejiang NPC delegation earlier this week to raise national awareness of harmful additives.
Other deputies watched aghast as Mr Zhu showed peanuts turning a glass of water black within seconds, recounts Southern Metropolis Daily.
During a session of the Chinese People's Political Consultative Conference (CPPCC), the country's national advisory body, Du Ying, deputy director of the National Development and Reform Commission, warns of worsening groundwater pollution and says tainted underground sources are spreading from cities to the countryside, Southern Metropolis Daily reports.
Vice-Premier Zhang Dejiang yesterday told the Hong Kong NPC delegation that some people in Hong Kong are engaging in "groundless speculation" about Beijing tightening controls over the city, Wen Wei Po reports.
The newspaper blames "a minority" who are waving British Hong Kong colonial flags and calling for "independence".
During another CPPCC session, mainland artists says state-funded arts troupes are struggling to compete overseas against Shen Yun, a rival troupe funded by the banned spiritual movement Falun Gong, Hong Kong's South China Morning Post reports.
BBC Monitoring reports and analyses news from TV, radio, web and print media around the world. For more reports from BBC Monitoring, click here. You can follow BBC Monitoring on Twitter and Facebook.