HK woman jailed for laundering $860m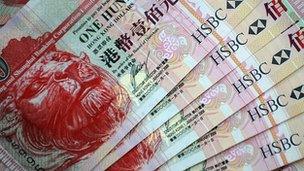 A woman has been jailed for 10 years for laundering about $860m in Hong Kong.
Lam Meiling, 61, made almost 40,000 bank transfers between 2002 and 2005.
She said the money came from a factory owner from her hometown in Dongguan, and that her job was to transfer the money to other factory owners in mainland China.
She was arrested in 2008 after two of her bank accounts were investigated.
Lam said she was instructed by a former babysitter who had looked after her children before becoming a factory owner.
"[She] babysat my daughter, so in return I worked for her," local media quoted her as saying.
She said she received occasional monthly payments of HK $4,500 ($580; £388) in return for her services. She also said that she was illiterate.
Justice Andrew Chan said that although Lam, accused of laundering around HK$6.7 bn ($860m; £580m), was not the mastermind behind the scheme, he had no doubt she was aware of what she was doing.
The case came to light after a Dutch citizen filed a fraud complaint that led to the investigation of two of Lam's many bank accounts.
Local media say that the money was laundered through nine banks, and that Lam laundered an average of HK$155m ($20m; £13m) every month.
Hong Kong has become a popular place for mainland Chinese to set up companies, because it is easy for them to travel into Hong Kong, and as a free market, financial transactions are easier.
In some instances, people from mainland China have used accounts in Hong Kong to obscure their assets through money-laundering.
In January a 22-year-old delivery man from Guangdong province was convicted of laundering almost HK$13.1bn ($1.68bn; £1.13bn) - the biggest money laundering case ever to be discovered in Hong Kong.
Related Internet Links
The BBC is not responsible for the content of external sites.