China People's Congress approves new cabinet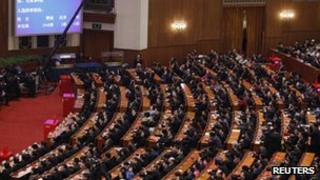 China's parliament has approved a new cabinet, completing the leadership transition that saw Xi Jinping confirmed as president on Thursday.
The new team of Communist Party officials takes over as China seeks to maintain the economic growth that has transformed its global role.
The new foreign minister is Wang Yi, a former ambassador to Japan previously in charge of Taiwan relations.
Other appointments signalled continuity in financial and economic policy.
The new finance minister is Lou Jiwei, who was a deputy finance minister and head of China's sovereign wealth fund.
Central bank chief Zhou Xiaochuan was reappointed.
The four vice-premiers are Zhang Gaoli, Liu Yandong, Wang Yang and Ma Kai - all veteran Communist Party officials.
Liu Yangdong, 67, is the highest-ranking woman in the Chinese leadership, while Wang Yang, 58, is considered a reformer.
On Thursday, Xi Jinping was confirmed by legislators as China's new president, completing the transition of power from Hu Jintao.
And on Friday Li Keqiang was confirmed as premier, taking over from Wen Jiabao.
The new leaders are expected to spend a decade at the helm of the world's most populous country and second-largest economy.