China media: Japan radar lock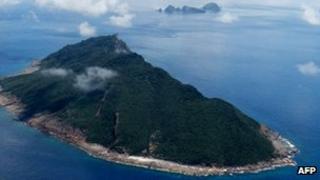 Experts in China hit out at Japanese media claims challenging Beijing's denial over a radar lock incident near disputed East China Sea islands.
China's Defence Ministry immediately refuted a report on Monday by Japan's Kyodo news agency that said unnamed "senior Chinese military officials" admitting recently, and for the first time, that a Chinese warship did lock weapons-guiding radar on a Japanese destroyer on 30 January.
The Kyodo report said the Chinese officials had called it an "emergency decision" made by a local commander.
Tokyo also says a Chinese frigate locked its radar on a Japanese helicopter in mid-January.
Beijing has consistently dismissed the Japanese government's complaints about alleged radar-locking as groundless.
Liberation Army Daily quotes an "authoritative naval department" as saying that the media reports on radar-locking are a "deliberate fabrication" and "malicious speculation" to tarnish the Chinese military's image.
The department accuses the Japanese military of "endangering" Chinese vessels and planes with its close tracking.
Maj Gen (Retd) Luo Yuan, deputy secretary-general of the Academy of Military Sciences, points out to Hong Kong's Wen Wei Po that the radar incident is "yet another lie concocted in Japan" with "ulterior motives of deliberately aggravating tensions between China and Japan".
Huo Jiangang, an expert on Japanese studies at the China Institutes of Contemporary International Relations, a state security ministry-affiliated think-tank, tells China Daily that Tokyo has resorted to "groundless allegations", especially the radar incident, to "contain China" internationally.
Tokyo and Beijing have been at loggerheads over a group of disputed islands in the East China Sea. The islands are known as Senkaku in Japan and Diaoyu in China.
Also on Monday, three Chinese government ships ordered Japanese patrol ships to leave "Chinese territorial waters" near the disputed islands, Global Times reports.
China's foreign ministry has called on the US to have a "responsible attitude" and to avoid escalating tensions after it announced plans to bolster missile defence after "threats" from North Korea, according to China Daily.
The foreign ministry also stressed that China's arms exports abide by legal norms and pose no threat to global peace and stability in response to a report by the Stockholm International Peace Research Institute on China replacing Britain as the world's fifth-largest arms exporter, says Beijing Times.
Pope inauguration
In other news, Taipei's Apple Daily gives top billing to Taiwan President Ma Ying-jeou and his wife visiting the Vatican Museum and St Peter's Basilica on Monday.
United Daily News highlights how Mr Ma was driven into Rome as a "head of state" with a Republic of China flag flying on his motorcade on Monday. However, Mr Ma's hotel has not displayed Taiwan's flag and it is only flying outside Taiwan's embassy in the Holy See.
Taipei's China Times notes that mainland China has been low-key on Mr Ma's attendance of the inauguration mass of newly elected Pope Francis in the Vatican on Tuesday.
"Ma's visit will not affect cross-straits relations. Considering his schedule and the size of the team, Ma's visit to the Vatican is more like a normal religious visit," Lu Cuncheng, a Taiwan affairs expert at the mainland's Chinese Academy of Social Sciences, tells Global Times.
In other Taiwan-related developments, China Daily says Beijing has appointed another top foreign affairs official, Zhang Zhijun, to head the government's Taiwan Affairs Office and replace Japan expert Wang Yi, who has been promoted to foreign minister.
Taipei's United Daily News says Wang Yi was highly competent and left a good impression on the people of Taiwan. It hopes Mr Zhang will continue his predecessor's initiative on making "fair and reasonable arrangements" for cross-strait political reconciliation.
Taipei's Central Daily News says Mr Zhang is a seasoned diplomat like his predecessor, who will hopefully continue Beijing's more flexible approach towards Taiwan's international activities.
Back on the mainland, most major cities recorded a sharp monthly rise in property prices in February, The Beijing News reports.
The highest was an 8.2% rise in Guangzhou, almost double the rate in the previous month. Beijing follows with 7.7%, Shenzhen with 5.8% and Shanghai with 4.1%.
In response, a bilingual Global Times editorial says the government must freeze soaring house prices in first-tier cities to prevent social discord and a growing wealth gap.
Police in Sichuan province's Ngaba prefecture, which is home to many Tibetans, have confirmed to Global Times that a 27-year-old monk at Kirti Monastery self-immolated and died on Saturday, the fifth anniversary of anti-Chinese protests at the monastery in 2008.
Police have also sent a co-investigation request to overseas police concerning a former Tibetan monk who allegedly colluded with exiled counterparts in India and incited two Tibetan teenage boys to set themselves ablaze in Ngaba on 19 February, Xinhua reports.
The Beijing News laments the lack of trust in local governments following earlier reports that 20,000 residents in Pingjiang county in Hunan province have not drunk tap water for years for fear of contamination from a mine.
An official in Pingjiang tells Global Times that the government has hired a group of environmental science experts to examine the quality of the region's tap water to reassure residents.
BBC Monitoring reports and analyses news from TV, radio, web and print media around the world. For more reports from BBC Monitoring, click here. You can follow BBC Monitoring on Twitter and Facebook.