China releases Tibetan political prisoner after 17 years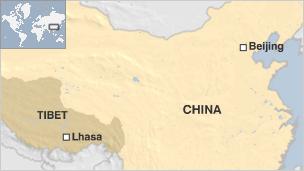 China has released Tibetan political prisoner Jigme Gyatso after 17 years in jail, reports say.
Tashi Phuntsok, spokesman for Tibet's government in exile, said Mr Gyatso was freed a year before the end of his jail term, probably because of ill health.
Mr Gyatso was jailed in 1996 on charges of separatism and endangering national security and is thought to be suffering from kidney problems.
Human rights groups say he was tortured in prison.
Mr Phuntsok said from India that Mr Gyatso returned to his home in Gansu province after his release from Chusul prison near Tibet's capital, Lhasa.
The 52-year-old former monk appeared "very weak" after he was released on Saturday, says the US-backed Radio Free Asia (RFA) broadcaster.
Friends say he walked with a limp and was complaining of heart, vision and other problems related to poor nutrition and lack of medical care, RFA adds.
Reports of his release could not be immediately confirmed, as foreign media are banned from the region.
Rights organisations had called for his release. He was one of the region's better known political prisoners.
He was initially sentenced to 15 years, but got his prison term extended by three years in 2004 after he reportedly shouted slogans in support of the Dalai Lama in jail.
China's leaders blame the Dalai Lama, Tibet's exiled spiritual leader, for encouraging Tibetan separatism and inciting a series of self-immolations in protest against Beijing's rule.
The Dalai Lama strongly rejects this charge.