China media: More news on bird flu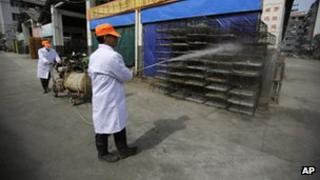 Media in China are discussing the bird flu outbreak, North Korea, the Tomb-Sweeping Festival and mourning for the victims of the 1989 Tiananmen crackdown.
Experts and officials are reassuring the public on China Central Television and other state media that there is little likelihood of the H7N9 bird flu virus turning into a deadly epidemic like Sars.
The new bird flu virus, previously unknown in humans, has spread to another province in the Yangtze River Delta, with one man in hospital and another dead in Zhejiang.
Southern Metropolis Daily says the authorities must learn from the lessons of the Sars cover-up a decade ago and conduct more checks for possible links between 16,000 dead pigs found in waterways near Shanghai and the new bird flu virus in order to allay public fears.
Hong Kong's Apple Daily complains that authorities and hospitals in Yangtze River Delta are not giving enough updates to the public on the condition of six patients who are currently in a critical condition with the virus.
It notes how staff and patients at a Jiangsu hospital, where one woman is being treated for the virus, were not taking special precautions such as wearing masks.
Hong Kong's Oriental Daily News suspects that local authorities are delaying or even "keeping secret" cases of the new bird flu virus and urges Hong Kong to step up border checks and take more safety measures.
'Foul' gas
Tensions on the Korean Peninsula continue to dominate the top international news headlines on China Central Television, party and state newspapers and major news portals.
Ta Kung Pao, a Beijing-backed Hong Kong newspaper, says North Korea has only worsened its "poor international image" and scared off investors by closing the Kaesong Industrial Park, a joint venture with South Korea.
"North Korea's closure of the Kaesong Industrial Park is a 'self-castration'-style foolish move and only an insignificant political gesture towards the outside world, but the damage to North Korea itself is real," the newspaper says.
Back in China, frustrated villagers in Jinnan, Shandong, tell Hong Kong's South China Morning Post that they have no way of stopping "foul-smelling toxic" gas from nearby petrochemical plants, which they say is causing a sharp rise in cancer tumours among locals.
Oriental Daily News and other Hong Kong media have posted videos of a police raid on a filthy workshop in Zhengzhou making "toothpick kebabs" out of diseased dead chickens and pigs.
During the Tomb-Sweeping Festival this week, Hong Kong's Ming Pao says members of Tiananmen Mothers, a group of families of victims who died in the violent crackdown on pro-democracy demonstrators in 1989, paid respects at a cemetery in Beijing under close supervision from the authorities on Wednesday.
Former 1989 pro-democracy movement demonstrators reportedly held the first-ever public memorial for the victims of the crackdown on Monday at a funeral parlour in Hebei province, Ming Pao also reports.
The organisers chose Zhengding county, where President Xi Jinping started his political career in the early 1980s. They were detained for 24 hours after the commemoration.
On Tuesday, about 20 petitioners and human rights activists also paid respects at the former residence of ousted reformist Communist Party leader Hu Yaobang in Beijing, the newspaper adds.
On the same day, hundreds of petitioners from around the country held up banners demanding a reversal of the authorities' verdict on the Tiananmen protesters as subversive, and paid tribute to the victims of the crackdown for about 15 minutes outside Beijing's South Railway Station, Ming Pao says.
Despite a recent environmental campaign to clamp down on vendors selling paper offerings during the Tomb-Sweeping Festival, China News Service says paper replicas of Apple's iPhone 5 and iPads are the top-selling items on online shopping website Taobao as a "luxury" sacrificial offering to be burned for the deceased. The items come with chargers, headphones and instruction manuals.
Aside from old favourites such as paper replicas of bottles of Maotai liquor, cigarettes, food, Rolex watches and Louis Vuitton handbags, other paper items include replicas of private jets, yachts, villas with nannies and drivers, Chanel, Land Rovers, Ferraris, a yellow Lamborghini priced at 3,880 yuan ($625, £413) and even mistresses.
QR (quick-response) codes on tombstones that can be scanned for information, photos and videos of the deceased are another new feature of the festival, South China Morning Post adds.