China media: Bird flu concerns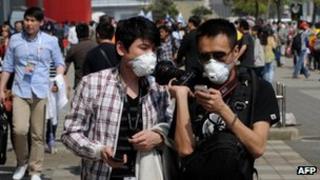 Media in China are discussing the spread of bird flu, reformist leader Hu Yaobang's death anniversary, labour camps and tourist entry fees.
Two new cases of the deadly H7N9 bird flu strain were diagnosed for the first time further north in Henan province on Sunday, taking the number of reported cases to 60 in Henan, Shanghai, Jiangsu and Zhejiang, Southern Metropolis Daily reports.
In an interview with China Central Television, health expert Zhong Nanshan says the evidence against human-to-human transmission is "hardly conclusive".
He points out that Sars (Severe Acute Respiratory Syndrome) also took time to become a full-blown epidemic and warns the public to quickly report any flu symptoms.
Military infectious diseases expert Jiang Suchun tells Beijing Morning Post that the bird flu virus has shifted north instead of south because of cooler weather and says the virus is unlikely to survive in the warmer temperatures of the south or expand into an epidemic.
However in Southern Metropolis Daily, Zhang Yonghui, a disease control expert in Guangdong, says the risk of an outbreak in the south is "high", especially with the southward migration of birds in autumn.
Global Times says the public must restrain "irrational behaviour" and "excessive anxiety" and not boycott chicken following billions of yuan in economic losses to the poultry industry since the outbreak.
Kerry's 'good start'
In international news, People's Daily Overseas Edition says US Secretary of State John Kerry has made "a good start" during his visit to China on Saturday in contrast with his predecessor, Hillary Clinton, who "aggravated" China's territorial disputes with neighbours.
Global Times also calls Mr Kerry's visit a "good start" and says China-US relations are "still on track" despite China's territorial tensions with Japan and South East Asian neighbours.
In domestic news, People's Daily Online, Xinhua and other state media give high-profile coverage to the anniversary of the death of reformist communist leader Hu Yaobang, although the obituaries do not mention that he was ousted and blamed for student protests across China in 1987.
China Youth Net, however, recounts public "discontent" over the way that Mr Hu's death in 1989 was officially commemorated and how thousands of students marched on Tiananmen Square days later for a memorial service for him. These protests led to the Tiananmen Square protests of 1989.
The family of Yu Qiyu, a Communist Party member and an engineer in Wenzhou at an state-owned enterprise, are contesting an official autopsy report that he died from "suffering an accident" last Tuesday while being held for investigation by the city's commission for discipline inspection, Southern Metropolis Daily reports.
The family insist that photos on the internet show that Mr Yu had bruises and appeared to have been bitten while in custody, Global Times adds.
The Beijing News and Southern Metropolis Daily express hope that former labour camp inmate Tang Hui will receive a fairer appeal hearing after her failed compensation lawsuit on Friday against a government department in Yongzhou in Hunan.
The laojiao or Re-education Through Labour Department sentenced her to 18 months in a labour camp last August for petitioning for a harsher verdict for men who had abducted and raped her 11-year-old daughter in 2006.
Jing Bao says the re-education through labour system should be "completely thrown into the dustbin of history" and points out how many inmates have suffered "hell on earth" from torture and exhaustion in camps.
Tourism woes
Southern Metropolis Daily says authorities in the tourist town of Fenghuang in Hunan should have considered the impact on local businesses from a controversial 148 yuan ($24, £15) entry fee for tourists introduced last week.
The new fees triggered clashes between riot police and business owners angry at a drop in the number of visitors.
The Beijing News attacks the new fees as "dubious 'public-private collusion'" between the Fenghuang authorities and a private tourism management company.
New Express says a campaign on Sina Weibo, China's version of Twitter, calling on people to boycott Fenghuang during the May Day holiday week has attracted hundreds of thousands of supporters.
A frugality campaign may have hit high-end restaurants hard, however. People's Daily blasts government and military officials following a China Central Television expose on Saturday on luxury vehicles with military plates parked outside private clubs in Beijing.
Hong Kong law professor Benny Tai Yiu-ting has fleshed out his Occupy Central plan - a civil disobedience movement to block traffic in the city's financial district in the fight for democracy, Ming Pao reports.
He says the nominating committee for the 2017 chief executive election should be popularly elected.
BBC Monitoring reports and analyses news from TV, radio, web and print media around the world. For more reports from BBC Monitoring, click here. You can follow BBC Monitoring on Twitter and Facebook.