China's Xi Jinping: The curious case of the 'taxi ride'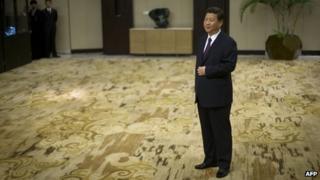 When Xi Jinping needed a ride in China's capital last month, he hopped into a taxi and embarked on a 26-minute trip through downtown Beijing, chatting with the astonished taxi driver all the way…. or so the story goes.
Later on Thursday, the entire story was declared a fake and censored from the Chinese internet.
Before that point, Hong Kong's pro-Beijing paper, Ta Kung Pao, appeared to have an unusual "exclusive" on the Chinese president's apparent desire to experience life as a regular Chinese person.
An entire section of the paper's website was devoted to the ride.
According to the driver's interview with Ta Kung Pao, he apparently recognised the Chinese president a few minutes into the journey.
Mr Xi quickly confirmed his identity, the paper reported, before explaining to the driver that he wanted to see what it was like to travel by taxi during Beijing's notorious rush-hour traffic.
"Everyone is equal," Mr Xi reportedly told his driver, "and I'm from the grassroots too." 
Chinese leaders usually ride in private cars and live in tightly guarded compounds, so Ta Kung Pao's apparent scoop attracted special attention.
Hours after the story was first released, it had been forwarded more than 69,000 times on Weibo, China's version of Twitter.
When the story first broke, many Chinese internet forums praised Mr Xi, comparing him to a Qing-dynasty emperor, Qianlong, who was famous for travelling incognito.
"It will be good for the people if the leader hears directly from the people," wrote one Weibo user, named Chimaoju.
Hoax claims
However, it didn't take long before internet users began picking apart the story.
Some questioned why the account of the ride took more than six weeks to surface. Others compared the hand-written note Mr Xi reportedly gave to the taxi driver with earlier examples of Mr Xi's Chinese calligraphy, arguing they didn't match.
Many doubts were quelled after Xinhua, China's state news agency, issued a story verifying the taxi ride, citing a confirmation of the ride from the Beijing Ministry of Transportation.
"The Ministry of Transportation knew about this? I thought it was a spontaneous trip," complained one Weibo user, Yuru Xiaozi.
"Why are we all so excited about the General Manager of the Chinese people taking a taxi anyway?"
"This is nothing," another user, Li Hao, noted.
"[German Chancellor Angela] Merkel buys her own vegetables and cooks for herself."
Just a few hours after Xinhua's published a confirmation of the story, accounts of Mr Xi's taxi journey quickly began disappearing from Weibo and the front pages of China's state-run media outlets.
Soon after, Xinhua declared the story a fake.
Twenty minutes later, Ta Kung Pao issued a breathless apology. "It's inappropriate for us to make such mistakes at work and allow such a significant piece of fake news to appear," they admitted.
So… why would anyone make up a story about China's president taking a taxi ride?
Some argue that Ta Kung Pao invented the entire story.
Perhaps, the theory goes, they hoped their fawning account of Mr Xi's "man of the people" style would cement their close relationship with the Communist Party without raising too many questions.
However, the story was co-written by the paper's Beijing Bureau chief, Wang Wen Tao, not an inexperienced rookie reporter.
It is hard to believe that Mr Wang would choose to fabricate an entire, detailed series of events, particularly a story that involved the most powerful man in China.
On Thursday morning, the paper's website released an entire web page devoted to Mr Xi's supposed ride through Beijing, including an extensive photo gallery with images of the taxi driver and Xi's handwritten note.
The site also included an interactive map that illustrated the views that the Communist Party chairman would have seen along the way.
Such an elaborate feature would have taken hours, if not days, to build. This story was planned well in advance.
Conspiracy theories
Others contend that an outside group concocted the story and fed it to Mr Wang and his colleagues at Ta Kung Pao, either in a misguided attempt to boost Mr Xi's image, or in an effort to discredit Ta Kung Pao. 
The Hong Kong paper's credibility was already in question after it predicted, incorrectly, that the corruption trial of disgraced Communist official, Bo Xilai, would begin last January.
The last group of theorists argue the entire story about Mr Xi's wild ride could all be true. Perhaps Mr Xi did, in fact, hail a humble taxi in Beijing in March.
The propaganda authorities might have hoped the Chinese public would focus on the seemingly-noble comments Mr Xi reportedly made to his driver, including his vows to crack down on pollution and his apparent interest in the taxi driver's modest salary.
When the Chinese public began to focus on the details of the story the government did not want to emphasise, some believe, the authorities could have decided to pull the story from the internet, declaring the entire series of events a hoax.
Ta Kung Pao's Hong Kong headquarters has confirmed that Mr Wang is still employed as the paper's Beijing bureau chief, though for now, the paper isn't answering any questions.
Some might try to solve the mystery of Mr Xi's (not so) wild ride by tracking down the taxi driver, using photos of him that were supposedly taken outside his simple suburban home.
A phone call to the driver's taxi company, Beijing Sheng Da Li, confirmed the driver does exist and continues to work for the company.
However, the receptionist at the company refused to answer any other questions before abruptly hanging up the phone.
In many other countries, you would just ask the president whether he made the trip or not. However, China has no spokesperson for the President, so there is no designated place where you could lodge such a question - and, even if there was, you would be unlikely to get a response.