China round-up: Yasukuni shrine visits condemned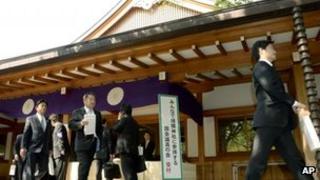 Media condemn recent visits to a war-linked shrine by Japanese officials, but are largely silent on Tokyo's warning it will use force against any attempts to land on disputed islands.
There has been a barrage of condemnation in Xinhua, China Daily and other state media of recent visits by Japanese officials and lawmakers to the Yasukuni Shrine, which marks Japan's war dead including convicted war criminals.
Japanese Prime Minister Shinzo Abe has also come under fire for sending a ritual offering in lieu of a personal visit to the controversial shrine.
People's Daily urges him to be "rational" and not "pander to the right wing" to win votes.
Global Times hails Chinese government ships for "driving off provocation" by Japanese activists who sailed on Tuesday to disputed islands, known as the Senkaku islands in Japan and the Diaoyu islands in China.
The newspaper refers indirectly to the "Japanese side making a threatening warning on island landings" to China on Tuesday, but dismisses a "declining" Japan as lacking self-confidence.
"The Chinese should regain their contempt for 'Little Japan'", it says.
However, China Central Television's Morning News and almost all other state-party media in mainland China are silent on Mr Abe's warning that Japan will respond with force if any attempt is made to land on disputed islands.
Prof Lian Degui, a Japan expert at the Shanghai Institute for International Studies, tells Hong Kong's South China Morning Post that Tokyo merely wanted to see if Beijing would tone down its tough stance while handling the Sichuan earthquake.
Xinhua and other state media have been similarly low-key and reserved on China's foreign ministry refuting India's complaints that around 50 Chinese soldiers crossed 10km past the Sino-Indian Line of Actual Control and set up a tent post in Ladakh in Jammu and Kashmir on 15 April.
Red Cross shunned
In domestic news, media urge the public to donate quake relief funds to the country's beleaguered Red Cross.
Xinhua news agency and other state media are defending the Red Cross Society of China and say the organisation should not be "stigmatised" as a corrupt embezzler.
Public concerns over embezzlement are prompting people to donate funds for last Saturday's earthquake in Ya'an, Sichuan, to non-government organisations (NGOs) and microblog donation sites instead of China's Red Cross.
A photo of a young Red Cross worker with a Sichuan earthquake donation box being shunned by passer-bys in Shenzhen last Sunday has been widely carried in the media, including Hong Kong's Phoenix TV.
Yesterday, the Chinese Red Cross announced that it would reopen an investigation into a scandal back in 2011 involving a young woman named "Guo Meimei" who claimed to own luxury cars, and to work for an organisation under the Red Cross, Caijing reports.
Photos of her apparently lavish lifestyle on her microblog triggered suspicions that the organisation's funds had been misappropriated.
A heated debate in Hong Kong on whether public donations should be given to the mainland government continues to dominate the Hong Kong press.
The Beijing-backed Wen Wei Po condemns local activists and legislators for "politicising" disaster relief funding in "violation of humanitarian principles and human conscience".
In Apple Daily, columnist Lee Yee says many members of the public in Hong Kong are worried that the funds will be stolen by corrupt officials, and encourages the public to donate to NGOs instead.
In other news, The Beijing News says the government's slashed budget for official receptions, overseas visits and vehicle use is triggering a slump in many sectors, including food and beverage, tobacco, five-star hotels, entertainment and luxury gifts. Shares in Maotai and other high-end liquors have also dipped.
Following intense public speculation over a photo of Taizhou official Zhang Aihua "kneeling" on a dinner table last Friday, which went viral, authorities say Mr Zhang was not, as media had reported, begging forgiveness from residents through a loudspeaker for being caught having a lavish banquet.
Mr Zhang was reportedly addressing aggrieved local residents demanding higher compensation for being resettled to make way for a controversial petrochemical plant, residents reveal to China Youth Daily.
In Henan, rights groups and Aids activists are calling for the release of several detainees with HIV/Aids who were involved in a mass protest on Monday outside the provincial government over neglect for patients with the disease, says South China Morning Post.
Finally, Global Times says a new study by Peking University and Greenpeace shows that Beijing's air is laden with arsenic and other heavy metals.
BBC Monitoring reports and analyses news from TV, radio, web and print media around the world. For more reports from BBC Monitoring, click here. You can follow BBC Monitoring on Twitter and Facebook.