China media: Li Keqiang's Pakistan visit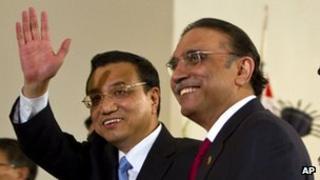 State media promote Chinese premier Li Keqiang visit to "iron brother" and "all-weather friend" Pakistan, while speculation continues on a North Korean special envoy's visit to Beijing amid a recent rift.
People's Daily Online and other party-state media continue to highlight an unchanged "all-weather friendship and strategic partnership" with Pakistan.
Mr Li, who is now in Switzerland, spent three days in New Delhi and Mumbai as the first stop of his visit, followed by two days in Islamabad.
China Daily, a state newspaper aimed at a foreign readership, features commentaries on Pakistan's warm welcome to Mr Li surpassing scorching 40-degree temperatures in Islamabad, and how the "unbreakable friendship" between the two countries is "not just effusive words".
China Central Television and Southern Metropolis Daily lead with how Pakistani lawmakers rapped their tables 14 times in "strong endorsement" of Mr Li's speech, "let all-weather friendship bear new fruit", at the parliament yesterday.
"If you love China, love Pakistan too," Mr Li declared to the lawmakers.
Experts stress to China Daily how Beijing's increased investment in energy and infrastructure, construction of an "economic corridor" and lower agreed tariffs on Chinese imports will help resolve a massive trade imbalance with Pakistan.
JF-17 Thunder fighter jets jointly developed by Pakistan and China are attracting interest from many countries in the Middle East, Africa and South America, a Pakistan air force officer also tells China Daily.
Six of the fighter jets escorted Mr Li's plane as it entered Pakistani airspace on Tuesday.
Xinhua news agency emphasises Pakistan's pledge in a joint statement of continued co-operation with China against "terrorism, separatism and extremism" and the "East Turkestan Islamic Movement", a group outlawed as a terrorist organisation by Beijing.
In other security-related news, China Daily says the government is soliciting public views on a draft law banning fundraising for "terrorists".
North Korea speculation
Meanwhile, People's Daily Overseas Edition hits back at international media hyping up a recent Sino-Indian "tent confrontation" as well as Japanese politicians sowing discord between the two Asian giants.
The newspaper's commentator, Hua Yiwen, asserts that a "China-India miracle" highlighted during Premier Li's visit to India has confounded "jumping jesters".
Intense speculation continues over North Korean special envoy Choe Ryong-hae's ongoing meetings with top Chinese leaders in Beijing.
In The Beijing News, Wang Junsheng, a North Korea expert at the Chinese Academy of Social Sciences, a top government think-tank, says the envoy's visit is tantamount to North Korea announcing that its "vainly-attempted model of 'leading China by the nose'" was a mistake and not feasible.
Ta Kung Pao, a Beijing-backed Hong Kong daily, believes that North Korean leader Kim Jong-un's real aim in sending a special envoy is to talk up bilateral friendship in order to "get more bargaining chips" from "elder brother" China ahead of six-party talks.
Zhang Liangui, a communist party school professor, is also sceptical about Mr Choe's assurances to Liu Yunshan, who is ranked fifth in the Communist Party hierarchy, that North Korea will heed Beijing's advice on starting dialogue with other parties to ease tensions.
Prof Zhang says he is "not optimistic" about the six-party talks restarting and believes the envoy's visit is aimed at easing tensions with China to secure more aid, rather than signalling a softening of Pyongyang's stance on its nuclear programme, Southern Metropolis Daily notes.
Global Times derides Philippine Defence Secretary Voltaire Gazmin's "funny and ridiculous" calls to the army to defend up to the last soldier standing near a disputed reef known as Ayungin Shoal in the Philippines and Ren'ai Reef in China.
Over in Taiwan, United Daily News warns President Ma Ying-jeou that his popularity will plummet further if he does not negotiate soon with an "arrogant and capricious" Philippines on fishing and maritime borders.
It says Mr Ma must not back down on demands for a formal apology, compensation and criminal investigation into the Philippine Coast Guard's fatal shooting of a Taiwan fisherman in early May.
Finally, a Global Times commentary rebukes US Vice-President Joe Biden for referring to China as a country that cannot "think different" or "breathe free" during his "prejudiced" commencement speech at the University of Pennsylvania on 13 May.
Hong Kong's South China Morning Post reported earlier this week that Chinese students and parents are demanding an apology from Mr Biden for his "insensitive" speech.
BBC Monitoring reports and analyses news from TV, radio, web and print media around the world. For more reports from BBC Monitoring, click here. You can follow BBC Monitoring on Twitter and Facebook.