China media: Hong Kong leadership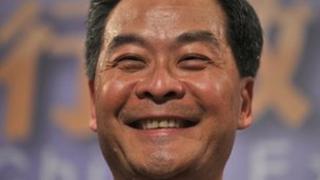 Hong Kong media are abuzz with rumours of a potential leadership change after veteran local China watcher Willy Lam quoted Beijing-based sources as saying that plans are afoot to replace Chief Executive CY Leung.
In Tuesday's edition of Apple Daily, Mr Lam wrote that Beijing has a "Plan B" for replacing Mr Leung at an opportune time.
However, pro-establishment politicians quote Wang Guangya, director of the Hong Kong and Macau Affairs Office, as saying that Beijing has no plans to replace Mr Leung.
In an interview with Radio Television Hong Kong last night, Mr Lam says he is not surprised by the Beijing government's vow of support for Mr Leung.
"Until they can find the right person to substitute CY Leung, they will keep it under wraps. They also need to pick the right opportunity to execute the change of leadership," Mr Lam says.
Mr Leung also denied on Tuesday that there was any move to replace him, says South China Morning Post.
Hong Kong's Apple Daily recalls how Beijing officials also quashed rumours of a sacking before "abandoning" embattled former chief executive CH Tung in 2003.
"CY Leung's track record, connections and political qualifications are far inferior to Tung. The Chinese Communists will certainly abandon him in a faster and more ruthless manner," the newspaper predicts.
Beijing-backed newspapers Ta Kung Pao and Wen Wei Po suspect that opposition politicians are spreading rumours about Mr Leung's replacement to build support for Occupy Central, a sit-in protest planned in the city's financial district next year to push for universal suffrage.
'Cold water'
Confusion also continues in the Hong Kong press over another denial of rumours by Beijing. On Tuesday, Hong Kong-based satellite broadcaster Phoenix TV apologised for an unverified report on the party's plans to demote or freeze the promotions of ministerial-level officials if their children do not return to China within a year of graduating from foreign schools.
The report quoting "reliable sources" was originally carried by US-based Chinese-language dissident news website Boxun and also retracted by the Beijing-backed Ta Kung Pao.
Hong Kong's Oriental Daily News says the retraction has greatly disappointed the public.
"It is as though a pot of cold water has been poured directly onto the heads of the public, and an ignited fire of hope has been extinguished once again," it notes gloomily.
Hong Kong's Apple Daily says the retraction of such welcome news was most likely to prevent a backlash from senior officials.
"The government's hasty rumour rebuttal can only show that the higher the degree of public support for such news, the more it will touch on the scruples of those in power," the newspaper concludes.
Crimes against minors
With Children's Day on Saturday approaching, Xinhua and other media are giving prominent coverage to an order by China's supreme court for local courts to show zero tolerance and even execute people for crimes against minors.
A series of child molestation cases have made headlines across China recently.
China Youth Daily and Jing Bao say China must break traditional cultural taboos and introduce better sex education in schools as well as stricter screening of teachers.
In Guangzhou, the local women's federation has issued 10,000 "anti-wolf manuals" to girls and parents to ward off sexual predators, China News Network reports.
The federation revealed that more than 2,506 girls had suffered sexual abuse in Guangdong Province in the past three years. Nearly half of them were aged under 14, and only 35% of the abusers were strangers.
And finally, in a follow-up to the dramatic rescue of a new-born baby rescued from the sewage pipe of a toilet in Pujiang county, Zhejiang, on Monday, The Beijing News says the recovered baby, nicknamed No 59 after his hospital incubator, has been released from hospital.
Police tell Global Times that based on the investigation so far, the mother may avoid charges as she accidently gave birth and was unable to rescue her son. She did not come forward to police for fear of public censure for being an unmarried mother, the newspaper adds.
"I did try to catch him when he fell, but he was too slippery. I even used a mop to help me," the mother was quoted as saying in Qianjiang Evening News.
BBC Monitoring reports and analyses news from TV, radio, web and print media around the world. For more reports from BBC Monitoring, click here. You can follow BBC Monitoring on Twitter and Facebook.