China media: Shangri-La dialogue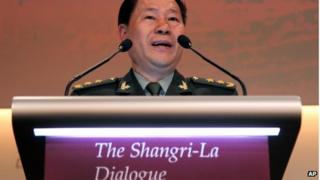 Media and experts discuss territorial tensions and US military deployments in Asia following a security conference in Singapore, while the Hong Kong press note a rift among the pro-democracy camp ahead of the 4 June vigil.
Global Times expresses disappointment at US Defence Secretary Chuck Hagel's declaration at the Shangri-La Dialogue in Singapore that the US will redeploy 60% of its fleet and overseas-based air force to the Asia-Pacific region by 2020.
It says his remarks have spoiled the atmosphere ahead of a key summit between the Chinese and US presidents later this week.
"The military redeployment is a self-deceiving and misguiding effort to check and balance China. This is also an embodiment of the fact that the US is nearly exhausted when it comes to dealing with China's rise," it says.
China Daily also criticises Mr Hagel's "unwarranted accusations" on Chinese state-backed cyber-attacks.
"Compared with China's consistency, the US is sending a mixed, and even confusing, message... The US defence chief should be told that such unconfirmed allegations neither help solve the issue, nor help build strategic mutual trust between the two countries," it says.
In Global Times, Han Xudong, a professor at the National Defence University, says "Western" media "hype about China's growing military power and the US' military redeployments serves multiple ulterior motives including helping the US to export more arms as well as build a US-led security system in Asia-Pacific.
A People's Daily Overseas Edition commentary accuses the Philippine defence secretary of "making mischief" and smearing China as a "bully" by raising a reef dispute at the Singapore conference.
Despite criticism levelled at the US and neighbours, experts tell Southern Metropolis Daily that strategic tensions between China and the US and regional neighbours have diminished compared with last year's Shangri-La Dialogue.
Many state media note that China's envoy at the conference, People's Liberation Army Deputy Chief of Staff Lt-Gen Qi Jianguo took a more "moderate" stance on island disputes with Japan and the Philippines so as not to spoil the atmosphere ahead of the upcoming Sino-US summit.
State media also highlight how Lt-Gen Qi reasserted historical claims over disputed islands known as the Diaoyu Islands in China and the Senkakus in Japan, but also made a call for shelving the dispute for "future generations to solve".
Retired PLA colonel Yue Gang tells Hong Kong's South China Morning Post that Lt-Gen Qi also dismissed a People's Daily commentary last month by mainland scholars casting doubts on Japan's ownership of the Ryukyu Islands, which include Okinawa, as not representing Beijing's view to pacify neighbours worried by the rise of China.
"By making it clear that China would not claim those it does not deserve to have, what Qi said has to a certain extent strengthened the country's position on its assertiveness of sovereign rights over the Diaoyus in a more justifiable manner," he said.
Macau-based China military-watcher Antony Wong Dong tells the Post that Qi's comment suggests that the People's Daily commentary could be just a "trial balloon".
Li's Caribbean tour
In other international news, Global Times hails Chinese President Xi Jinping's ongoing tour of the Caribbean and Central America as symbolic of China's new diplomacy of reaching out to far-flung parts of the world to promote "soft power".
In Hong Kong, many newspapers are reporting an ongoing rift among pro-democracy activists over a patriotic "love the country, "love the country, love the people" slogan that has now been dropped from an annual 4 June candlelight vigil to mourn the victims of a 1989 military crackdown.
Lee Cheuk-yan, chairman of vigil organiser the Hong Kong Alliance in Support of Patriotic Democratic Movements in China, has called for public unity as "nativists" insist on holding a rival commemoration highlighting local interests, rather than mainland issues, Ming Pao report.
Bao Tong, the most senior party official jailed over the Tiananmen movement, tells South China Morning Post that the crackdown must be "completely repudiated" if China is to move forward.
On Children's Day last week, Apple Daily also notes that internet users played "edge ball" by posting a now deleted photo on mainland news portal Netease of a Lego reconstruction of "Tank Man", the nickname of an anonymous man who stood in front of a column of tanks the day after the military cracked down on protesters around Beijing's Tiananmen Square.
BBC Monitoring reports and analyses news from TV, radio, web and print media around the world. For more reports from BBC Monitoring, click here. You can follow BBC Monitoring on Twitter and Facebook.