China arrests two over poultry plant fire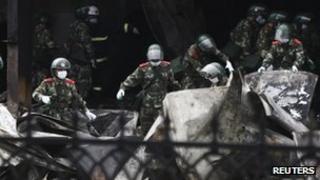 Two senior executives at a poultry processing plant in China have been arrested over a fire that left 120 people dead, officials say.
Monday's blaze, in Jilin province, was China's deadliest fire since 2000.
A microblog post from the Jilin government's information office, citing investigators, said that company chairman Jia Yushan and general manager Zhang Yushen had been detained.
According to officials, the firm's bank account has also been frozen.
The fire began at Jilin Baoyuanfeng factory early on Monday. There have been reports of explosions prior to the fire, or an ammonia leak, which may have made the fire worse.
Workers say that most of the exits to the factory were locked, making it difficult to escape.
"You had to get the team leader's permission before going to the toilet, and the doors would only be opened then," a former worker, who was only identified by his surname, Li, told state broadcaster CCTV.
Investigators said the fire was a "serious accident due to negligence", but stressed that the cause of the disaster could not yet be determined, a microblog post from the Jilin government said.
Initial investigations suggested that the factory's safety management was "confused", responsibilities were "not implemented" and that safety drills had not been carried out, it added.
"The provincial government and relevant departments did not fully implement their regulatory responsibilities."
Some users on weibo, China's version of Twitter, expressed anger at the news.
"Why were all these problems not discovered before - where is the supervision?" user Little Logo Pig wrote.
"Jilin's safety supervision chief should resign. Where has regular supervision gone?" user Ivan asked.