China bus blaze blamed on 'suicidal' man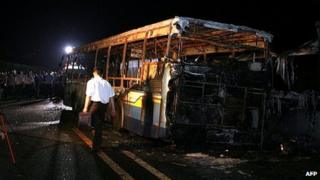 A suicidal man started a fire on a packed commuter bus in south-eastern China that killed 47 people, state media report.
They said a suicide note was found at his home in the port city of Xiamen, where the attack place.
The suspect, named as Chen Shuizong, was among those killed.
Police began a criminal investigation after traces of petrol were found on the diesel-powered bus and the fuel tank survived intact.
More than 30 people were injured in the fire during the Friday evening rush hour.
A local government statement quoted by Xinhua news agency, said Chen Shuizong - aged about 60 - had carried out the attack because he was unhappy with life and wanted to vent his anger.
The statement added that DNA evidence identified Mr Chen as the key suspect.
Witnesses said the bus was destroyed within 10 minutes by the fire and some heard a series of explosions, Reuters reported.
After the incident, officials closed the entire express bus system which uses tracks above the city centre. It reopened on Saturday.
A team led by China's Public Security Minister Guo Shengkun was sent to oversee the investigation.
The BBC's John Sudworth in Shanghai says there have been a number of attacks on buses and public buildings in China in recent years by people with personal and sometimes political grievances.
In 2009 an unemployed man ignited petrol on a bus, killing himself and 26 others. Another 24 people died the same year in a shuttle bus fire started by a disgruntled steel worker.