China media: Xi's new campaign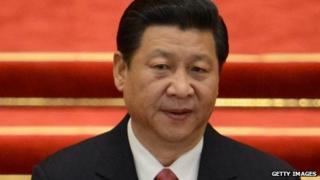 Media are promoting President Xi Jinping's new campaign against decadent working practices in the Communist Party.
China Central Television and other official media have given top billing to a new rectification campaign launched by Communist Party General Secretary Xi Jinping to reinforce the "mass line" or the party's ties with the masses.
At a teleconference in Beijing yesterday, Mr Xi called for a "thorough clean-up" of "four forms of decadence: formalism, bureaucratism, hedonism and extravagance".
He said he wants the cadres to "watch from the mirror", "groom themselves" and "take baths" to purify themselves of greed, laziness and other vices.
Commentaries in People's Daily and Xinhua News Agency say a slew of party members are threatening the party's rule by being "divorced from the masses".
The party has also launched "Mass Line Net", an official multilingual website to publicise the campaign.
The rectification drive comes amid another anti-corruption campaign to "swat flies and hit tigers" that he launched after taking over as party leader last November.
However, Beijing-based academics express scepticism to Hong Kong's South China Morning Post on Mr Xi's revival of the late Mao Zedong's "mass line" campaign to purge the party of unsuitable members.
Swapping cars
In other news, Beijing Evening News says Foreign Minister Wang Yi's decision to swap his official foreign car for a cheaper domestically-made Red Flag, which was once favoured by Chairman Mao, could signal an end to officials using foreign cars.
The Beijing News says Mr Wang's choice is welcome if the more fuel-efficient and cheaper new Red Flag H7 model can save taxpayers money.
However, South China Morning Post says some internet users are not impressed by Mr Wang's more frugal choice.
"The foreign minister uses such a faulty car! What an embarrassment to the celestial dynasty! Provincial, city and even county leaders all drive Volkswagen off-roaders or Audis, and you just get this one," the Post quotes one internet user as writing on the foreign ministry's micro-blog.
Former district party chief Lei Zhengfu goes on trial today in Chongqing for allegedly accepting bribes in a sex video extortion scam that was exposed online by a whistleblower last November, Southern Metropolis Daily reports.
Red Guard apology
Chengdu Business Daily and other newspapers are praising former Red Guard, Liu Boqin, 61, for apologising publically to nine victims and their families who he beat and terrorised during the Cultural Revolution (1966-1976).
In an advertisement and letters to the editor first published in Yanhuang Chunqiu, a reformist Beijing-based magazine, Mr Liu, from Shandong province, says he had managed to track down some victims and had been forgiven, Yanzhao Dushi Bao recounts.
The Beijing News praises Mr Liu and says few former Red Guards have had the courage to apologise publically.
"Society must also progress as the country moves forward. We need personal memories, but also need a national memory," writes Changjiang Daily commentator Li Xing wrote in praise of Mr Liu.
A recent commentary by Communist Party journal Qiushi (Seeking Truth) accusing electronic media, "low-age, low-education and low-income" netizens, "opinion leaders" and shuijun ("water army" or ghost writers) of using the internet to attack the party and government has been slammed by some commentators, notes the South China Morning Post.
Turning to international news, People's Daily says the US government must not let suspicions among former US vice-president Dick Cheney and other US politicians that US whistle-blower Edward Snowden may be a Chinese spy overshadow bilateral relations.
A Global Times editorial says the "knee-jerk reaction" of some US media and politicians in alleging "absurdly" that Mr Snowden is a Chinese spy has resurrected the anti-Communist witch-hunts of the 1950s McCarthy era.
A bilingual editorial, also by the Global Times, says the Hong Kong government should take the lead in handling the Snowden case, "rather than being told by Beijing or Washington what to do".
"Since Hong Kong is where Chinese dissidents can find shelter, then why can't an American 'rebel' be harboured there? Hong Kong has the chance to expand its political freedom to a larger extent, setting an example for the rest of the world," it says.
BBC Monitoring reports and analyses news from TV, radio, web and print media around the world. For more reports from BBC Monitoring, click here. You can follow BBC Monitoring on Twitter and Facebook.