China media: 'Old friend' Park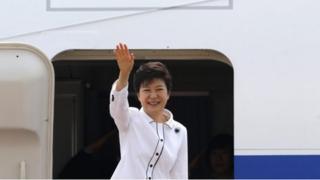 State media welcome South Korean President Park Geun-hye as an "old friend" on her first state visit to China.
The Beijing News calls Ms Park the latest "old friend of the Chinese people" who broke the presidential convention of visiting Japan after the US. She chose to visit China ahead of Japan in her tour of important global destinations.
"With her keen interest in Chinese philosophy and her self-taught capacity for Mandarin, Republic of Korea President Park Geun-hye is set to charm China and bring the two countries even closer together," says the China Daily.
Ms Park is expected to give a speech in Mandarin at Beijing's Tsinghua University.
Wang Junsheng, a North Korea expert at the Chinese Academy of Social Sciences, a government think-tank, also tells the China Daily that the scale of Ms Park's business delegation to China is much bigger than the one she took to the US for her first state visit, which shows that she is trying to balance Seoul's relations with the US and China.
"During the crisis on the Korean Peninsula in the past few months, we think Park has handled it well. The Republic of Korea showed restraint, kept rational and enhanced coordination with China," Mr Wang said.
In a front-page commentary in the People's Daily Overseas Edition, Wang Yiwei, a professor of international relations at Beijing's Renmin University, says China and South Korea should "upgrade" and "reposition" relations by moving beyond the North Korean nuclear crisis and the US-South Korea alliance and signing a free trade agreement as soon as possible.
Prof Wang says Seoul must not "sit on the fence" by relying on China's economy and the US' military protection.
The official Xinhua news agency says Beijing and Seoul could make headway on tackling North Korea's nuclear programme and "breathe new life into stalled talks on the peninsula".
'Violent incident'
In other international news, The Beijing News and other media are shocked at three Chinese men and a woman, all in their 50s, being hacked to death by masked assailants in a supermarket on Monday in Port Moresby, Papua New Guinea, with one of them beheaded.
Reports by the official Xinhua News Agency of a "violent terrorist incident" in Turpan in eastern Xinjiang that killed 27 people was top news on many Chinese-language mainland news portals when the story broke on Wednesday. However, the story is missing on many news websites today.
"We strongly condemn this savage act of violent terror. 88% of the residents of Shanshan County in Turpan region are Uighurs and public order is good, but these thugs destroyed local social stability and also committed unpardonable heinous crimes. They are the enemies of the people of Xinjiang, and the enemies of the Uighurs of Xinjiang," the Global Times comments.
Mainland media coverage of the violence is restricted largely to the English-language press.
The English-language China Daily says the incident is strikingly similar to a "terrorist attack" in April that left at least 21 people dead near Kashgar in the western part of Xinjiang and says possible links with "overseas terrorist cells" must be investigated.
Li Wei, an expert on anti-terrorism with the Chinese Institutes of Contemporary International Relations, a state security ministry-affiliated think-tank, tells the China Daily that "terrorists" have turned to eastern Xinjiang since security was strengthened in southern Xinjiang, where several similar attacks occurred in recent years.
'Visa waiver'
Turning to Hong Kong, the South China Morning Post says a US Senate vote on Thursday over the city's bid for visa-free access to the US may be in jeopardy amid Washington's anger over the departure of US whistle-blower Edward Snowden.
"This 'visa waiver' which was supposed to be reciprocal has now become a means for the US to attack and retaliate. This matter is enough to prove that the US government is an out-and-out political rogue," the Ta Kung Pao, a Beijing-backed Hong Kong daily, comments.
The Wen Wei Po, a Beijing-backed Hong Kong newspaper, says China and Russia do not want the Snowden case to drag on and damage relations with the US when "cooperation and compromises are urgently needed" between the three countries on the Syrian war and other global affairs.
A South China Morning Post editorial says the Snowden case is an "isolated one" that must not be allowed to disrupt ties between Hong Kong and the US.
BBC Monitoring reports and analyses news from TV, radio, web and print media around the world. For more reports from BBC Monitoring, click here. You can follow BBC Monitoring on Twitter and Facebook.