China media: 'Extraordinary welcome' to Park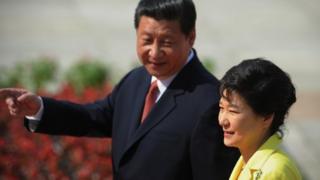 Media in China highlight Seoul and Beijing's unity against North Korea's nuclear programme, while Hong Kong press debate students snubbing the city's leader at a graduation ceremony.
Front-page reports in the People's Daily and other party-state media highlight President Xi Jinping stating that China is firm, sincere and earnest on denuclearising the Korean peninsula during his talks with South Korean President Park Geun-hye in Beijing on Thursday.
In an interview with the People's Daily Online, Dong Xiangrong, a researcher at the Institute of Asia-Pacific Studies at the Chinese Academy of Social Sciences, a government think-tank, says China gave an "extraordinarily warm welcome" to Park Geun-hye by inviting her on a state visit only four months after she took office.
Mr Dong says a consensus between China and South Korea on ridding North Korea of nuclear weapons will be the most important outcome of Ms Park's visit and an indication that China and South Korea will work more closely on the issue.
Jin Canrong, associate dean of the School of International Relations at Beijing's Renmin University of China, tells Hong Kong's Wen Wei Po that President Xi's stance on denuclearising the Korean peninsula is "new, unprecedented, and with a heavier tone than before".
Mr Xi's statement on China "opposing the actions of any party that undermines regional peace and stability" is a "clear warning" to Pyongyang, Prof Jin adds.
He believes that Mr Xi's welcome for Ms Park's "trust-building process on the peninsula" indicates Beijing's support for the initiative.
Su Hao, director of the Asia-Pacific Research Centre at the China Foreign Affairs University, tells the Global Times that China and South Korea's consensus on Pyongyang's nuclear weapons development being a "serious threat" indicates that the two countries have reached a significant consensus.
"China is also a part of Northeast Asia, so the statement obviously indicates that Pyongyang's nuclear weapons programme also poses a serious threat to China. China is making its stance even clearer by stating this... Boosting co-operation in politics and security means that the China-South Korean strategic partnership will no longer exist in name only," Prof Su said.
Lu Chao, a Koreas expert at the Liaoning Academy of Social Sciences, however, tells the Global Times that it is too optimistic to speak of a "honeymoon" between China and South Korea after Park's visit.
Prof Lu notes that bilateral ties reached a low point in the latter half of last year after a Chinese fisherman was killed in a dispute with South Korean coastguards.
A bilingual editorial by the Global Times plays down recent frictions between China and South Korea as "mostly sensationalistic squabbles at the public level". It says South Korea should aim for "flexible diplomacy" and believes that China should not try to overthrow the South Korea-US alliance.
In other news, the Global Times hits back at US Department of State for spokesman Patrick Ventrell for expressing concerns over "discrimination and restrictions against Uighurs and Muslims in China" and for not condemning a "violent terrorist incident" that left at least 35 people in Turpan in Xinjiang on Wednesday.
The Beijing News reports that "cancer villages" are emerging frequently near the tributaries of the Huai River in central provinces such as Henan, Jiangsu and Anhui, with around 2,000 cancer deaths in one year in Shenqiu county in Henan.
'Leader snubbed'
Hong Kong paper Apple Daily is relishing how Hong Kong Chief Executive CY Leung was snubbed by students while he was conferring degrees at a graduation ceremony at the Hong Kong Academy of Performing Arts on Thursday.
Ming Pao says more than 60 out of 276 graduates refused to bow to Mr Leung on stage, while others crossed their arms over their head to "show discontent over the pace of universal suffrage and CY Leung's integrity".
Some graduates bowed instead to the auditorium, while others walked straight past Mr Leung or gave him the thumbs down. One student also stuck up her middle finger at Mr Leung.
Oriental Daily News notes how one student on stage shouted: "I want genuine universal suffrage!"
Some students held up signs calling for a vindication of the 1989 Tiananmen pro-democracy movement.
Wen Wei Po, a newspaper with close ties to Beijing, says the "inappropriate and aggressive behaviour and lack of decency and respect" of a minority of "selfish" students should be condemned.
Ta Kung Pao, another Beijing-backed newspaper, attacked the students as "vulgar" and lacking rudimentary respect and courtesy towards Mr Leung.
"One can express discontent and raise criticisms over government administration, but this does not include making such a low and stupid response," it says.
BBC Monitoring reports and analyses news from TV, radio, web and print media around the world. For more reports from BBC Monitoring, click here. You can follow BBC Monitoring on Twitter and Facebook.