China media: Hong Kong anniversary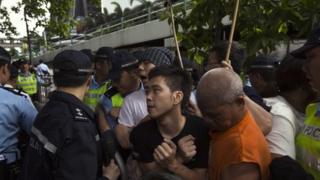 Media in Hong Kong mark the territory's handover anniversary amid tensions, while mainland press accuse the US and the West of backing Xinjiang "terrorists".
Mainland state media coverage of the 16th anniversary of Hong Kong's handover to China on Monday has been subdued and low-key amid rising social tensions in the city over the pace of political reform.
China Central Television (CCTV) and most Communist Party-run newspapers have focused on handover celebrations across the border in Shenzhen at the weekend.
Another CCTV commentary notes pessimistically that the "spirit of Hong Kong" is ailing because of falling employment and low entrepreneurship rates.
The Chinese-language state media have as usual censored news on Hong Kong's annual protest march on 1 July to demand universal suffrage and voice other grievances.
A commentary in the English-language version of Beijing's Global Times, however, stresses that there is "no hidden agenda" in Hong Kong staging a pop music festival at the same time as the protest march.
Many internet users have lobbied South Korean and Hong Kong performers not to perform at the concert in recent weeks.
Over in Hong Kong, the Apple Daily hopes that turn-out for Monday's protest march will match the first march back in 2003 that attracted over 500,000 people. It says citizens should win the battle to bring down Chief Executive CY Leung.
"Anger on the streets today", reads the front cover of Hong Kong's Oriental Daily News.
An Oriental Daily News editorial also notes that "popular discontent is seething" with CY Leung's government, but it also puts much of the blame on former chief executive Donald Tsang's administration.
"An incompetent Hong Kong government, poor governance, directionless economic development and weak improvement in people's livelihoods have turned Hong Kong into a city of sadness," the editorial says.
The Hong Kong Economic Times blames the city's government for failing to address public grievances and warns that social discontent is a "bomb threatening social stability".
However, the Wen Wei Po, a Beijing-backed newspaper, insists that the Hong Kong government has been unable to tackle economic stagnation and livelihood difficulties because the city has fallen into an "abyss of internal strife" of constant political struggles and rampant populism.
The Ta Kung Pao, another newspaper close to Beijing, says "Western anti-China and anti-communist forces" are still using Hong Kong as a base to subvert China's communist rule.
It warns that Hong Kong is at threat from Occupy Central, a civil disobedience movement to promote universal suffrage, as well as the US government allegedly hacking computer networks. The Apple Daily is also accused of being funded by American political forces hostile to China.
The Ming Pao and the South China Morning Post both conclude that party politics similar to Taiwan should be developed further to ease growing antipathy in Hong Kong towards the governments of Hong Kong and Beijing.
'Double standards'
In other news, the People's Daily Overseas Edition and the China Daily accuse the US of "double standards" in classing violent unrest in Xinjiang as ethnic conflict rather than terrorism and supporting exiled Uighur activists.
A bilingual editorial in the Global Times says the Western media have "once again stood against facts and the feelings of the Chinese people" by quoting the World Uyghur Congress as saying that the suppression of Uighurs triggered recent conflicts in Xinjiang.
Elsewhere, the mainland public are sceptical about an expanded online complaints platform that now includes petitions against abuses of administrative power and the infringement of public interests, the Global Times reports.
Some petitioners question whether their privacy can be protected by the service's real-name policy, as most cases, including tip-offs, will end up being transferred back to the local government, the Global Times says.
The People's Daily says some local authorities have in the past "cut off a bridge of communication with the masses" and "alienated flesh and blood ties with the masses" by blocking channels for petitioners to express grievances.
An editorial in The Beijing News says although online petitioning should be as easy and reliable as online shopping, it took authorities in Hainan province two years and nine months to reply to an online petition.
"Online petitioning was launched some places more than a year ago, but online petitioning halls are still deserted, and a certain degree of public mistrust is still reflected in this," commentator Fu Dalin writes in the Beijing Times.
BBC Monitoring reports and analyses news from TV, radio, web and print media around the world. For more reports from BBC Monitoring, click here. You can follow BBC Monitoring on Twitter and Facebook.