Chinese court orders woman to visit mother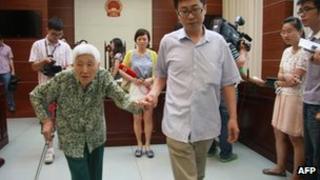 A Chinese court has ordered a woman to visit her mother once every two months, state media say, in the first case since a new law on parental visits came into effect on Monday.
The judgement was issued by a court in Wuxi, after a 77-year-old woman brought the case against her daughter.
The court also ruled that the daughter and her husband had to provide financial help, reports said.
The new visitation law has provoked both debate and ridicule online.
Called the "Elderly Rights Law", it is intended to tackle the growing problem of lonely elderly people by ordering adult children to visit their ageing parents.
But many have questioned how it can be enforced, given that the frequency of visits is not spelled out.
Other internet commentators say it intrudes into areas that should be governed by personal choice.
In this case, Xinhua reported that the elderly mother sued her daughter after she refused to care for her any more following a row.
China Daily said the hearing on Monday in Wuxi was held "to highlight the implementation of the law".
"Filial piety, considered a key virtue of traditional Chinese culture, generally means respect for one's parents and ancestors, including being good to one's parents and fulfilling one's duty to take care of them," the paper said.
The law was aimed primarily "at urging all of society to pay more attention to elders", it quoted a professor of population studies as saying.
China's population is aging and in recent years there have been a number of cases of elderly people being poorly treated or neglected that have shocked the nation.