China media: Lesson from Egypt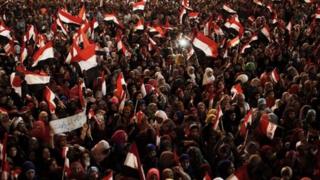 State media warn of the dangers of copying Western democracy in the wake of Egypt's military coup.
Commentaries in the People's Daily Overseas Edition, the Beijing Daily, the Oriental Morning Post and many other state-run media reiterate that "Western-style democracy" is not a one-size-fits-all solution for developing and non-Western countries with different cultural traditions.
The official Xinhua news agency says the unrest in Egypt shows that the West's "export of democracy" is a "faulty diagnosis" rather than a panacea for the problems of developing countries.
"Certain Western countries should take the situation in Egypt as an example, engage in serious reflection, wake up their brains and not readily find fault with other countries. This will leave some face for them," it adds.
A bilingual editorial in the Global Times believes that developing countries that have copied Western-style democracy have often come to "grief".
The People's Daily domestic edition reiterates the Communist Party's view that political reform and democratisation can lead to chaos if there is no stability.
The Wen Wei Po, a Beijing-backed Hong Kong newspaper, says Hong Kong must learn a lesson from the chaos in Egypt and not let "unrealistic radicalism" and haste over political reform undermine social stability and economic livelihood.
Hong Kong's South China Morning Post says the coup in Egypt has also ignited a heated debate among mainland internet users on whether democracy is suitable for China.
Xinjiang anniversary
On the anniversary of inter-ethnic violence in Urumqi, Xinjiang, on 5 July 2009 that left about 200 people dead, and following a recent deadly clash elsewhere in the region last week, experts tell the Global Times that Xinjiang "terrorists" are colluding with overseas separatist groups, and that the Arab Spring has given them inspiration to engage in violence.
The People's Daily praises China for fulfilling its obligations as a member of the global village in combating "terrorism, separatism and extremism" in Xinjiang.
A commentary in the Global Times says China must start an "uncompromising struggle" against US "human rights diplomacy" that is exploiting research on Xinjiang by the Johns Hopkins University in order to split and weaken China.
Despite an appearance of peace over the region, the South China Morning Post says the region's Muslim Uighur minority are feeling oppressed by the security presence and that schools are teaching children not to believe in religion.
Zhou Xiyin in Shanghai's Eastday and other commentators are asking why a gang rape case allegedly involving Li Tianyi, the 17-year-old son of a famous military singer, is taking so long to proceed.
The district prosecutor's office in Beijing has sent the case back to police to request clarification of some details.
In February, Li Tianyi was detained along with four other suspects for allegedly gang raping a woman in a Beijing hotel, sparking widespread public anger. Four out of the five suspects, including Li Tianyi, are under 18. All five are in detention pending trial.
A bilingual commentary in the Global Times says the public have questioned whether the suspects have powerful family backgrounds since the case was only submitted for prosecution several months after the incident.
"Li's case has aroused long-accumulated public anger toward social inequality. Many are venting anger through Li's case... Chinese public opinion is putting too much pressure on judicial openness, creating confusion," it says.
In recent years, the public have expressed outrage at the lenient sentences handed to the "rich second generation" or privileged and wealthy children of officials and rich businesspeople involved in recent criminal cases.
Finally, Red Net and other media are shocked at photos of a little girl lying on the street naked and smoking a cigarette while begging in Nanjing in Jiangsu province.
Residents in Nanjing tell the Global Times that they saw the girl begging for several days, often naked and alone or sometimes accompanied by a man who claimed to be her father.
Local police say they were called on to check on a "suspected abducted girl" on Wednesday and they sent the girl and the man back to their home village in Chenlong near Nanjing.
The 46-year-old man, who also has a son, told the Modern Express on Thursday that he could he could make more money from his daughter begging than from farming and that he could get more if she was naked. However, the Global Times quotes authorities as saying that the man is mentally disabled.
The Contemporary Gold website's commentator, Wang Qi, says laws to protect children's rights should grant more powers to authorities to revoke guardianship so as to prevent similar tragedies from occurring.
BBC Monitoring reports and analyses news from TV, radio, web and print media around the world. For more reports from BBC Monitoring, click here. You can follow BBC Monitoring on Twitter and Facebook.