China media: Japan's defence policy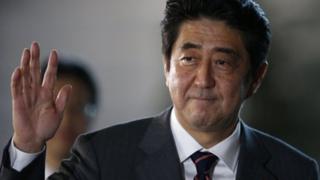 Media in China hit back at Japan's defence white paper as an excuse for a military build-up.
A bilingual Global Times editorial says Japan's newly released defence white paper has "sharply increased its provocative and vigilant tone" in highlighting China as a major security threat.
"The hysteria of some Japanese politicians is a result of their country's anxiety and fear," it adds.
The People's Daily says the white paper makes "groundless accusations" against China and other neighbours, and is an excuse for a Japanese military build-up.
"The white paper reeks of Japan's distrust of its neighbours, which it is using as a convenient justification for its own military ambitions and a stronger bargaining chip in the defence alliance with the US," the China Daily comments.
Xinhua news agency also accuses Japanese Prime Minister Shinzo Abe of "playing with fire" by "taking pride in" Japan's "history of aggression" during World War II.
Study tours suspended
In the wake of the deaths of two Chinese teenagers in an airliner crash in San Francisco on Saturday, education authorities in Zhejiang province and elsewhere have suspended study tours abroad and are requiring schools to check whether their tours are safe and in line with government regulations, the Guangming Daily reports.
The two teenagers and many other Chinese passengers on board were heading to summer schools in California.
In the Beijing News, some scientists are questioning the credibility of a study in the US journal Proceedings of the National Academy of Sciences (PNAS) showing that air pollution from coal burning is shortening the lives of people in northern China by around 5.5 years compared to those in the south.
They point out that the Chinese health sector was not involved in the survey and believe that air pollution may be only one of the factors behind shorter life expectancy.
Despite scepticism over the report, a Global Times commentary says it is still a "loud alarm" and questions whether vehicle emissions would shave even more than 5.5 years off people's lives.
In the Beijing News, journalist Yang Yuze says Environment Minister Zhou Shengxian's frank admission on the official Xinhua news agency's microblog service that his ministry is ranked among the world's "four major embarrassing departments" is more of an embarrassment for China's environmental protection work.
Mr Zhou also complained of chaotic environmental protection with water, land and carbon emissions being managed by different ministries.
Hong Kong's South China Morning Post is defending its expose on unlabelled trans-fats being found in three popular mainland infant formula brands following a barrage of criticism and denials by state media and industry figures.
Writer Ma Boyong's blog post on scores of "fake national treasures" on display at the Ji Bao Zhai (Hebei treasure house) museum in Hengshui, Hebei province, has generated much amusement and condemnation in the media.
In Monday's edition of the Southern Metropolis Daily, Mr Ma wrote in his blog that he was astounded to see historical inaccuracies on the artefact labels and exhibits supposedly worth millions of yuan displayed without protective glass.
One of the photos on Mr Ma's blog features a porcelain vase dated to the reign of Qing Dynasty Emperor Qianlong (1736-1795) sporting a modern cartoon octopus.
Local tourism authorities certified the museum as a 3A-grade tourist site as well as a model education site for students. However, they say they are not responsible for verifying the authenticity of relics, the Xinmin Evening News reports.
The museum curator Wang Zongquan, a local village head, also told the newspaper that the artefacts were all genuine.
Commentaries in the Nanfang Daily, The Beijing News and Red Net question whether there was corruption and profiteering between the local authorities and the museum.
"Since its collection is all fakes, it may as well openly admit this and seize the chance to turn it into negative teaching material to enable tourists to learn how to identify fakes," Contemporary Gold website's commentator Jiang Debin writes in a sarcastic tone.
BBC Monitoring reports and analyses news from TV, radio, web and print media around the world. For more reports from BBC Monitoring, click here. You can follow BBC Monitoring on Twitter and Facebook.