Foreign brands sought as China's food scares bite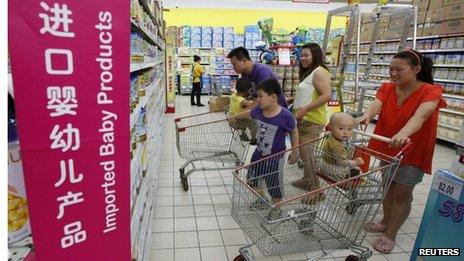 Liang Jinfang is lucky her small Beijing apartment has relatively big cupboards.
As a mother of an energetic one-year-old boy nicknamed Huhu, Ms Liang is deeply suspicious of locally produced food in China. Endless food safety scandals have led her to seek the safest possible sources of food for her child.
The result? Every shelf and spare cupboard in the family's apartment is packed with imported food for Huhu, including a year's supply of milk powder shipped from Germany and organic rice cereal from the United States.
"The government hasn't taken any measures to deal with the food scandals," Ms Liang said.
"There is only one answer: you have to pay to find the best food for your child."
This solution is not cheap. Huhu's parents both have solid jobs working as railway engineers, but a large chunk of their earnings go towards imported baby food.
"We spend so much on milk powder that my parents have to help us with our living costs so we can survive," Liang Jinfang admits.
But it is no wonder these parents and millions like them are worried.
In 2008, six infants died and 300,000 babies were affected with painful kidney stones after drinking tainted milk powder. An industrial chemical, melamine, was added to milk sold by several major Chinese dairies. Melamine falsely boosted the protein content in the milk.
China's leaders have vowed to tighten the country's food safety regulations, but the food crises continue. Almost every item on Chinese store shelves, from rice to candy, has been involved in some sort of food scandal.
Not only do many consumers worry about illegal additives to their food, they also question whether they are buying fake food.
Just this year, more than 900 people were arrested across China for crimes involving imitation meat, including rat illegally substituted for mutton and sold in market stalls.
So many people in China have developed their own coping strategies to deal with nagging worries about their food. Some, like Huhu's parents, hoard imported goods.
Others choose to arm themselves with information. A host of smart phone applications have surfaced in the past year offering daily alerts on the latest food safety scandals.
A cursory check of a single app warns users that a man in China's central Hunan province was arrested for selling bean sprouts that were illegally whitened with bleach.
The next posting, from a user in Beijing, reveals that "black lumps that appeared to be mouse droppings" were found in a packaged pastry from a local grocery store. A photo illustrates each grisly report.
Some consumers choose to protect themselves by becoming amateur food inspectors. Sales of home food safety tests are soaring online.
The Zhiyunda Science and Technology Company, a private laboratory staffed by former food safety researchers, is doing brisk business.
Originally they planned to develop instant food safety tests to sell to companies and government agencies. But now, at least 30% of their products are bought by individual consumers for use at home.
"Whenever a food safety problem pops up, we produce a matching solution," said the company's deputy general manager, Li Jiangang.
"In the European Union, they have horse meat masked as beef, but we have duck meat that's disguised as lamb. We have testers for that now too."
The lab now sells more than 150 different tests to address a host of Chinese food concerns. Some big sellers look for toxins in cooking oil. Other tests check for excessive pesticides on leafy vegetables such as lettuce.
The company's most popular product? No surprise - it is a three minute detector that looks for contaminants in baby formula.
"Actually, there are good brands of milk powder in the market, but people have no methods to tell right from wrong," Mr Li says.
"Some mothers use our melamine testers on every bottle of milk they use."
Back on the other side of Beijing, it's hard to imagine a test that would convince Huhu, the toddler's parents, to shop locally. Even the rice - the most Chinese of foods - their son eats is imported from Germany.