China media: Japan and islands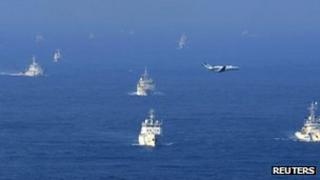 State media accuse Japanese Prime Minister Shinzo Abe of jeopardising relations after he warned of a heightened security risk from Beijing's "provocations".
Mr Abe made the remarks while inspecting two islets near disputed islands known as the Senkaku in Japan and the Diaoyu in China on Wednesday.
"A fox's tail cannot be hidden. Mr Abe's true face of coveting the territory of neighbouring countries and undermining regional security and stability was exposed before the world once again," says the People's Daily.
"Abe, do not play with dangerous moves," reads the headline of a commentary in the Liberation Army Daily.
"Abe is making Japan more and more like a 'rogue state'... We hope that Chinese officials keep calm and not get caught in interaction with Abe and his ilk of showing a tough stance. A Foreign Ministry spokesperson dealing with them should be enough," advises the Global Times.
Military Gen Luo Yuan, however, calls for unity and tougher action against Japan.
"We should forge a united front with all the countries that have disputes over islands and reefs to Japan, to safeguard the fruits of victory of World War II and co-ordinate action. We should report Japan to the United Nations," he writes in the Global Times.
Some state newspapers, including the China Daily, continue to accuse the Philippines of evasiveness after it said China's "hard-line position" had made it impossible to continue bilateral talks on South China Sea territorial disputes.
"The Philippine government's actions have failed to win support domestically and it also has a possibility of being isolated in the international community. The Philippines may want to display its 'pawn' role at times, but the US has made clear that it will not choose sides on the South China Sea issue," the People's Daily Overseas Edition comments.
Media row
Another key story in the mainland and Hong Kong press is China Resources (Holdings) response to a whistle-blowing journalist who accusing the state-run conglomerate's bosses of alleged corruption and wrongdoing "leading to the loss of billions in state-owned assets".
Wang Wenzhi, a reporter from the Economic Information Daily, a Beijing newspaper affiliated to the official Xinhua news agency, posted a letter on his weibo, or microblog, accusing chairman Song Lin and other managers of deliberately paying inflated sums for "poor-quality coal assets" in Shanxi province in 2010.
In an interview with the City Express, Mr Wang said the letter was removed without his consent. His posting also featured briefly on many state media websites before being deleted.
"I have some more evidence on hand and I'll make it public later," Mr Wang tells the South China Morning Post.
China Resources said in a statement that it operated strictly within national laws and regulations, and described the reports as "conjecture, assumptions and even malicious libel".
"All management activities are conducted according to shareholder and public interest," it said in the 17 July statement.
The Global Times also discussed the case of Caijing magazine journalist Luo Changping, whose online whistleblowing eventually brought down a former official of the National Development and Reform Commission, the country's top economic planning agency.
"Luo Changping set a good example. But if journalists like Luo spring up in all media, the order of Chinese media will be changed and people's understanding and the power of social networking sites will also be altered," cautions the newspaper.
"Cases where journalists are active on social media sites while the media outlets they work for remain silent should be avoided," it adds.
In other news, the South China Morning Post says the recent arrest of activist Xu Zhiyong in Beijing is "sparking fears that the government is escalating its crackdown" on activists who have urged officials to publically declare their assets.
The Beijing News and other newspapers are demanding a full inquiry after villagers in Chenzhou, Hunan province, took to the streets on Wednesday to accuse urban inspectors or "chengguan" of beating a watermelon hawker to death. Authorities angered the villagers by ruling that the chengguan were innocent.
"The watermelon farmer did, after all, die during a dispute with the chengguan. Even if his stall location did not meet the chengguan's requirements, there was no reason to resort to force against a 50-year-old elderly man," the Guangzhou Daily adds.