China media: Snowden saga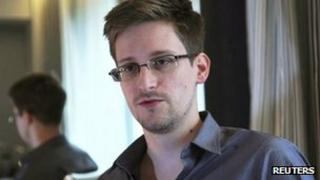 Pro-Beijing newspapers in Hong Kong hit back at the US consul-general over his remarks on Edward Snowden and demand a US apology for alleged cyber-spying.
The South China Morning Post says outgoing US Consul-General Stephen Young fired "sarcastic parting shots" at Hong Kong newspapers with close links to Beijing over their anti-US coverage of whistle-blower Edward Snowden's allegations of Washington's global cyber-spying operations.
At a reception with journalists at the Foreign Correspondents' Club on Thursday, Mr Young also expressed disappointment at how Beijing and Hong Kong did not extradite Mr Snowden, the Oriental Daily News reports.
The Beijing-backed Ta Kung Pao voices "strong dissatisfaction and protests" at how a "rude and unreasonable" Mr Young "flew into a rage" when its reporter asked him when the US government would respond to Mr Snowden's claims that it had been hacking into the city's computer networks.
"Well, I thank you for all of your objective reporting at Ta Kung Pao, first of all. And if you don't get the sarcasm, it's there. I do wish you'd be more objective. But I know you have your master in Beijing," Mr Young was quoted by the Post as saying.
Mr Young also criticised the Ta Kung Pao and another pro-Beijing paper, the Wen Wei Po, for questioning whether Washington deliberately staged protests by supporters of Mr Snowden outside the US consulate to cover up its alleged secret funding of the pan-democrats.
"The US has not only failed to apologise, but has made groundless accusations... The US must give an explanation and apology to the people of Hong Kong and stop invading Hong Kong's computers," the Wen Wei Po replies.
Another major story in the Hong Kong press, including the Oriental Daily News, the Ming Pao and the Apple Daily, is a probe by the Communist Party's anti-corruption watchdog into a whistle-blowing journalist's allegations of corruption and wrongdoing by China Resources Power Holdings (CRP), a state-run conglomerate registered in Hong Kong.
The company, however, has rejected Economic Information Daily reporter Wang Wenzhi's allegations that its executives paid inflated sums for overvalued coal mining assets in Shanxi province, The Beijing News adds.
Inquiry demand
Back in the mainland, the Southern Metropolis Daily, The Beijing News and many internet users are repeating calls for an inquiry into the death of a watermelon seller in Linwu county, Hunan province, during a dispute with urban management inspectors or chengguan on Wednesday that has triggered two days of protests.
The Beijing News says the chengguan authorities are denying witness accounts that officers beat Deng Zhengjia and his wife while one of them hit his head with an iron measuring weight. They say that the officers tried to fine the Dengs for running a stall without a licence.
Violent clashes erupted again after protesters tried to stop riot police taking away Mr Deng's body from the street, note the China Daily and the South China Morning Post.
The Global Times says the case has ignited public suspicion that the local government may be shielding the chengguan, but stresses that violence, not the chengguan system, should be blamed for any rough tactics employed by officers.
A village petitioner tells the China Youth Daily how she is waging a legal battle against authorities in Zhoukou, Henan province, after she was locked up in a labour camp and then sent to a mental hospital for 132 days for endangering "social stability".
The Beijing News says the public are questioning inconsistencies in the 2012 expenses accounts of central government departments amid an ongoing crackdown on officials splashing out on the "three public's" (san gong) - cars, banquets and foreign travel.
Beijing insiders tip off the Ming Pao on how official celebrations on 26 December to mark communist republic founder Mao Zedong's 120th birthday will be toned down amid an ongoing ideological dispute between liberals and "leftist" conservatives.
The Beijing Morning Post says a ban in Beijing on renting out illegally subdivided flats that often squeeze scores of tenants into bunkbeds has ignited concerns among internet users over having to pay higher rents.
Finally, many Chinese internet users have posted icons of candles to mourn the closure of the microblog accounts of the Asahi Shimbun, the South China Morning Post reports.
The Tokyo newspaper says social media operators Sina, Tencent, Sohu and Netease deleted its microblog accounts on Wednesday without any explanation.
BBC Monitoring reports and analyses news from TV, radio, web and print media around the world. For more reports from BBC Monitoring, click here. You can follow BBC Monitoring on Twitter and Facebook.