China media: Beijing airport blast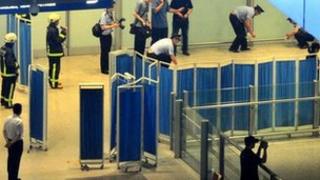 An explosive device set off at Beijing's international airport on Saturday night by Ji Zhongxing, a wheelchair-bound petitioner, has sparked public debate about a growing number of violent incidents fuelled by social inequity.
The Beijing News expresses hope that police in Dongguan can give a full account to the public when they investigate Mr Ji's claims on his now-deleted microblog. Mr Ji says he has been petitioning authorities in Dongguan for years over security officers allegedly paralysing him in a fight in 2005.
"Ji Zhongxing's detonation of an explosive device at Capital Airport was an extremely unwise way to uphold his rights. It is not permitted by law, and he will be severely punished by law. But this bombing has raised many warnings to society. Was Ji Zhongxing disabled by a traffic accident or by a beating? The public awaits the truth," comments the China Youth Daily.
"It's important to remember that Ji should be condemned and dealt with by law. His grievances can't provide moral support for his extreme actions, nor can they shield him from legal punishment," says the Global Times.
Authorities in Linwu county, Hunan province, deny ordering villagers to keep silent about the death of a watermelon vendor during a dispute with urban management officers (chengguan) and detaining those who spoke to reporters, says the Global Times.
Meanwhile, another watermelon vendor in Harbin, Heilongjiang province, was beaten up by a group of urban management officials last Thursday night, the China Daily adds.
'Huawei threat theory'
The victory of Japanese Prime Minister Shinzo Abe's Liberal Democratic Party in upper house elections is raising concerns over territorial disputes escalating further.
"If Abe continues to incite nationalist sentiment in Japan over historical issues, territorial disputes, defence policy and other sensitive issues, he will break his promises further to the international community, and also generate more negative effects on peace and stability in East Asia," says a Xinhua News Agency commentary published in China Youth Daily and Liberation Army Daily.
Chinese telecoms equipment manufacturer Huawei Technologies Co has denied claims by Michael Hayden, a former director of the US Central Intelligence Agency, who told the Australian Financial Review that it spies for China.
"Hayden and others are peddling a 'Huawei threat theory' to Australians and attempting to use a non-existent 'China threat' to kidnap Australia into their bloc," Mei Xinyu, a researcher at a Ministry of Commerce-affiliated think-tank, writes in the Global Times.
"It is noteworthy that the US still has a market for mistrust towards Chinese enterprises," the People's Daily concludes.
After several weeks with no new reported cases of the H797 strain of bird flu, a 61-year-old woman from Hebei province is in critical condition in a Beijing hospital after testing positive for the virus.
Researchers have found that H7N9 are transmissible in ferrets by respiratory droplets, "warning that it is possible the virus may be able to efficiently spread between humans eventually", the Global Times reports.
Fast-food giants KFC, McDonald's and the Guangzhou-based Kungfu are stepping up disinfection at their outlets in Chongwenmen, Beijing, after China Central Television found ice cubes containing bacteria "far in excess of the national limit".
Some ice cubes were "even dirtier than toilet bowl water", CCTV says.
"Some people say that if this had happened in the US, Kentucky would probably face huge administrative fines as well as entanglement in a lengthy lawsuit... The root cause of the endless chaos of China's food safety is that the cost of breaking the law is too low," the Huashang Daily says in response to KFC's apology.
Meanwhile, the Guangzhou Daily is exasperated at China's "endless food safety problems" amid allegations by a top dairy industry executive that "more than 60% of domestic liquid milk contains milk powder with flavourings and additives".
Global Times says internet users are dismayed at yet another of the "world's tallest buildings" being built in China.
The 838-metre-high "(2,749ft) Sky City" in Changsha, Hunan province, will be about 10m taller than the Burj Khalifa in Dubai, currently the world's tallest.
"Some netizens worry whether quality can be ensured for a skyscraper that is being built in just nine months, and suspect that it may become a shoddily built tofu dreg construction project," says Hong Kong's Oriental Daily News.