China Vice-President Li Yuanchao to visit North Korea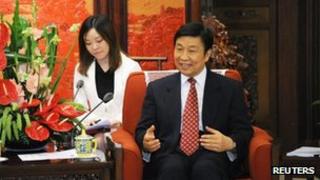 China's vice-president is to visit North Korea, China's Foreign Ministry has announced, amid strained ties between the two nominal allies.
Li Yuanchao would attend commemorations for the 60th anniversary of the end of the Korean War, state media said.
He will be the highest-ranked official from China to visit North Korea since Kim Jong-un became its leader.
Relations between Pyongyang and Beijing have been strained in the wake of North Korea's 12 February nuclear test.
Angered by expanded UN sanctions and US-South Korea military drills, Pyongyang threatened attacks on Japanese, South Korean and US military targets in the region.
China, North Korea's biggest trading partner, is seen as its closest ally and the nation with the most influence over it.
It has traditionally prioritised maintaining stability in North Korea to avoid any crisis that could trigger the fall of the regime and propel a flow of refugees across the border.
But ties appeared to chill as Beijing backed the UN sanctions and state media began openly debating the merits of maintaining good ties with Pyongyang.
In May, however, as tensions lessened somewhat, North Korea sent Vice-Marshal Choe Ryong-hae to Beijing.
Mr Li is scheduled to stay in North Korea until Sunday. While the Foreign Ministry did not provide other details of his trip, analysts say he could meet Kim Jong-un and other top leaders.
Mr Li, who assumed office this year after China's leadership change, is a member of China's politburo but not part of the powerful politburo standing committee.
North Korea is expected to mark the Korean War anniversary with mass games and parades.
China fought on the North's side during the 1950-53 war, which ended in an armistice and not a peace treaty.
As a result North Korea and South Korea - supported by UN forces led by the US during the war - remain technically at war.
Kim Jong-un became North Korea's leader after the death of his father Kim Jong-il in December 2011.