China media: Bo Xilai charges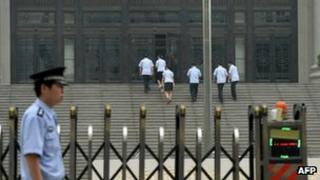 State media give full backing to the Communist Party following corruption charges against former Chongqing party boss Bo Xilai.
The official Xinhua news agency quotes a court in Jinan, Shandong province, as saying that Mr Bo has been charged with bribery, embezzlement and abuse of power.
As soon as the news was announced by China Central Television and Xinhua news agency, support for the Communist Party's crackdown on both "tigers and flies" - or powerful and minor corrupt officials - have been pouring in from state media websites.
The official Xinhua news agency says there should be "no favouritism or bias" in the trial of Mr Bo.
"The charges against Bo Xilai have reflected once again the central authorities' clear attitude and firm determination on ruling the country according to law and purifying its own body," says a commentary on Global Net, the website of the state-run Global Times newspaper.
"Some public opinion at home and abroad will inevitably exploit the opportunity of the trial of the Bo case to create excitement and they will even rack their brains to hype things up... Due to the identity and the special nature of a certain Bo's former job position, do not exclude people with ulterior motives taking advantage of the court trial to make a 'big fuss'," warns Guangming Net.
Internet users are also bombarding Beijing-based news portals Sohu and Sina with support for the charges against Mr Bo. Some users are also calling for a fair and open trial.
Territorial row
Turning to international news, state media are accusing the Philippines and Japan of ganging up against Beijing over territorial disputes.
Japanese Prime Minister Shinzo Abe's tour of Malaysia, Singapore and the Philippines starting today is raising suspicions among state media and experts that Tokyo is building an alliance to "contain" China.
"Japan and the Philippines are forming an 'axis' to confront China in its neighbouring waters. They aim at creating an illusion that China has been isolated and jointly targeted, but the strategic influence of the 'axis' is limited... 'Encircling China' is a mere fantasy," says the Global Times.
China Youth Daily derides "the paltry number" of Filipino demonstrators in protests over territorial disputes outside Chinese diplomatic missions in Manila and elsewhere around the world on Wednesday.
"Manila is using the protests to mislead public opinion and pass the buck for the escalating tensions between the two countries onto China," says the China Daily.
In other news, China's crackdown on the so-called "medical corruption" continues in the wake of an alleged commercial bribery scandal involving UK drug firm GlaxoSmithKline.
Earlier this week, China Central Television revealed that more than 1,000 medical professionals and nearly all of the hospitals in Zhangzhou city, Fujian province, have been allegedly receiving bribes and kickbacks from drug-makers for overcharging patients with exorbitantly-priced medicine.
Thirty-nine hospital executives and doctors in Gaozhou, Guangdong province, have also been netted in the drugs-for-kickbacks probe.
"Officials and experts who have the authority to decide on the types of medicine and prices in collective tenders are likely to be the main culprits of medical corruption... Collective medicine tenders should be entrusted to independent and professional social intermediary organisations," says a China Youth Daily commentary.
A row has broken out among China's business elite after Liu Chuanzhi, founder of China's largest PC maker, the Lenovo Group, told entrepreneurs to "stay out of politics and only talk business". Mr Liu was addressing an event sponsored by Zhenghe Island, an exclusive social media site for top-earning executives.
The South China Morning Post says fund manager Wang Ying has even quit Zhenghe Island in protest at Mr Liu, fuelling "a fear of politics that is spreading among Chinese business sectors".
"The public shouldn't force the politicisation of entrepreneurs... The prime responsibility of entrepreneurs is to create more job opportunities and contribute more tax revenue," the Global Times said in its defence of Mr Liu earlier this week.
China News Service says television regulators are cracking down with a curb on the number of singing contests to be aired during the summer holiday period.
BBC Monitoring reports and analyses news from TV, radio, web and print media around the world. For more reports from BBC Monitoring, click here. You can follow BBC Monitoring on Twitter and Facebook.