Chinese toddler critically wounded in Beijing parking row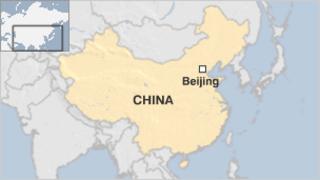 A Chinese toddler is in a critical condition in a Beijing hospital after being hurt during a row between her mother and a man over a parking space.
State media quoted a witness who said the man pulled the two-year-old out of her pram and threw her to the ground.
Her mother, who was attending to her daughter, had refused to make way for him to park his car by a bus stop.
The driver and one of his passengers also beat the woman up, reports said. Police have arrested the driver.
The owner of a street stall who saw the attack said the driver appeared to be in his 40s.
He got out of his Hyundai Sonata and hit the woman before removing her daughter from her pram and throwing her forcefully to the ground, said the stall owner, who gave his name as Zhou.
"The baby made no noises after being dropped, not even a cry of pain," the Beijing Times quoted him as saying.
Reports say the child is being kept alive on a respirator and stopped breathing at one point.
The driver was later arrested at a bath house in the capital, the Legal Daily reported.
If she dies he could be tried for murder, which carries a death sentence.